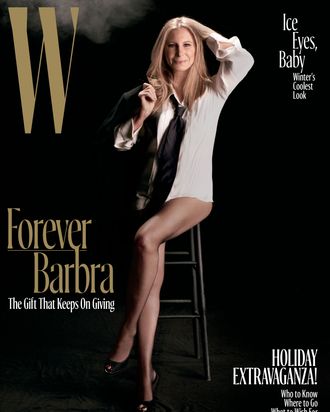 Barbra Streisand on the cover of W magazine.
Photo: Steven Meisel
It's unclear whether the "Winter's Coolest Look" cover line on the December issue of W refers to cover subject Barbra Streisand's pantsless, Elaine Stritch–esque ensemble, but it certainly does in our book. Who needs lampshading when you can just throw on a shirt, a pair of L'eggs, and a "Hey, Mr. Arnstein, heeeeere I am" expression and go, you know?
In the issue, Streisand tells the behind-the-scenes story of the famous Arnold Scaasi jumpsuit she wore to the Academy Awards in 1969. "That night, in my dressing room, I was choosing between two different outfits. One was lovely, but very conservative," she told the magazine. "And then there was the pantsuit with plastic sequins. I had no idea that when the lights hit that outfit, it would become transparent! … I thought to myself, I'm going to win two Oscars in my lifetime, and I'll be more conservative next time." Though, by the time 1977's Evergreen rolled around, she was, in true diva fashion, just as attention-getting as ever in a dress of her own design.