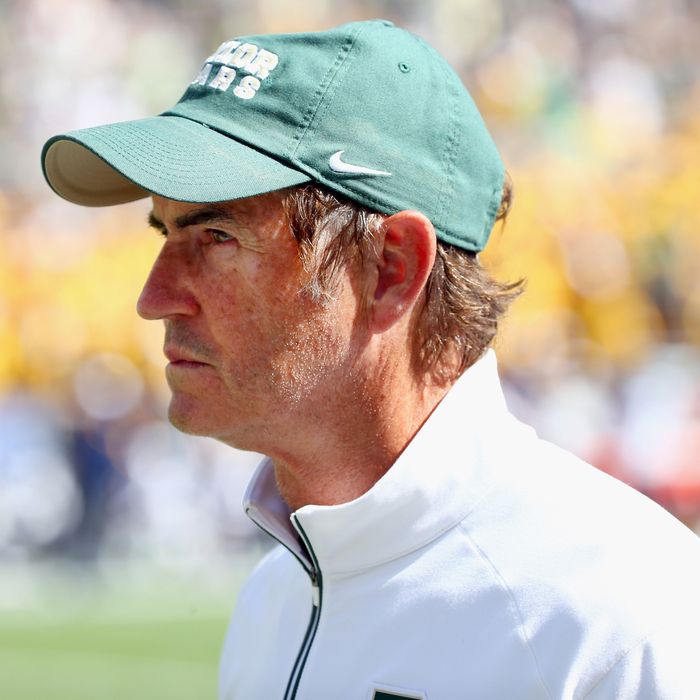 Photo: Tom Pennington/Getty Images
Baylor University has confirmed that former head football coach Art Briles and former athletic director Ian McCaw knew about one of the alleged gang rapes that occurred at the college, and both chose not to report it.
In May, Briles was fired, McCaw was placed on probation and later resigned, and Baylor president Ken Starr was demoted for mishandling sexual-assault charges at the university. The Wall Street Journal reported a detailed account of the claims as per the university's regents, which added up to 17 women reporting physical or sexual assaults involving 19 football players within a five-year period.
The case in question is a 2013 allegation by a female athlete that she was sexually assaulted by multiple football players at a party the year before; she told her head coach, who then reported it to McCaw, Briles, and the sports administrator for the female athlete's team. The incident should have been reported to the University's Title IX Coordinator (then known as the VP of Human Resources), the Baylor University Police Department, or Judicial Affairs, but that didn't happen.
Baylor's official statement reads in part:
While a victim may choose where or how to report a sexual assault, once informed of the report, athletics personnel may not exercise discretion to not report … In this case, the University can find no information that would support a conclusion that the student-athlete's head coach — or any other Athletics Department personnel — reported the incident to Judicial Affairs in 2013 or at any time since.
A lawsuit filed in June claims the school "created a hunting ground for sexual predators to freely prey upon innocent, unsuspecting female students, with no concern of reprisal or consequences." In November, Baylor's Title IX Coordinator said she was denied access to police reports about the allegations, even in closed cases.