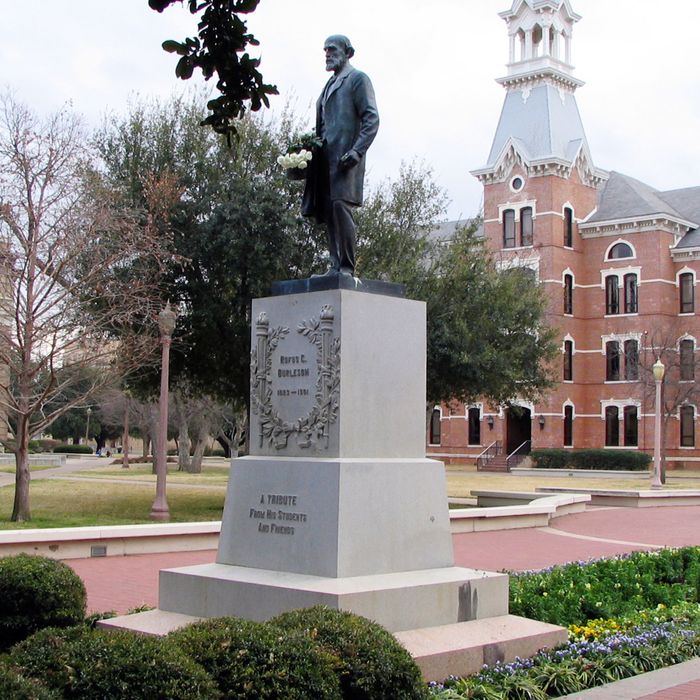 Baylor University.
Photo: Allen Holder/Kansas City Star/MCT via Getty Images
Baylor University — which has been embroiled in a far-reaching sexual-assault scandal involving student athletes — has reached a settlement with two women who reported gang rapes in 2012, according to ESPN. The settlement includes an undisclosed financial amount and offers no further details of what transpired or who was involved. These two cases are separate from others reported in the press previously, and the women involved never filed a lawsuit. University officials told ESPN that the events leading to these particular gang rapes, allegedly involving multiple football players, however, were included in the university's previous tally of campus assault dating back 2011. That tally includes 17 women who've reported sexual or physical assault, including four gang rapes.
Baylor University has been dealing with the aftermath of an ugly sexual-assault scandal going back at least five years and involving student athletes as well as utter negligence on behalf of key university officials who failed to report or properly examine sexual-assault allegations. This news comes just after Baylor confirmed that its former head football coach Art Briles and former athletic director Ian McCaw knew about at least one of the alleged gang rapes but chose not to report it. As a result of an independent investigation earlier this year into sexual assault at the university, there's been quite a top-down shakeup in leadership. The university's president was demoted for mishandling the reports; Briles was fired and McCaw resigned after being put on probation.