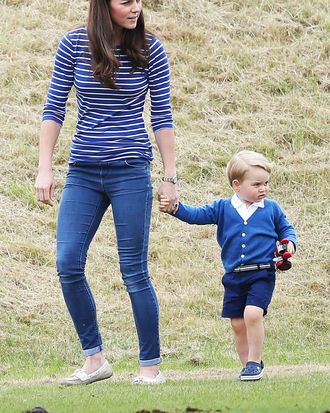 Prince George.
Photo: Chris Jackson/Getty Images for Gigaset Mobile
Relations between the U.S. and U.K. took a turn for the worst this summer, when Prince George apparently gave Ben Affleck's 4-year-old son Samuel a cold.
The always cheerful Affleck and his family spent some time in London earlier in the year, while filming the upcoming Justice League. In an episode of The Graham Norton Show, airing Friday on BBC One, the "normal-sauce" actor spoke of the fateful run-in his son had with Prince George at an indoor play center, according to People.
"I noticed this weird vibe from the other grownups. They were all very well dressed and had earpieces and I thought, 'For a kids' place this is tight security!' I was the very last person to realize that Prince George and Princess Charlotte were playing with my kid," Affleck said.
Shortly thereafter, Samuel ended up developing a cold, which Affleck is convinced came from Prince George himself. "I can now tell [Sam] that he got a cold from the King of England!" Affleck said.
Hopefully the American ambassador is working on smoothing out this situation.