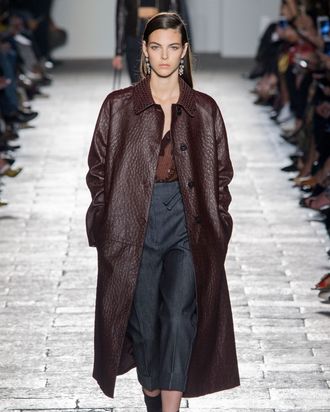 Bottega Veneta.
Photo: DANIELE OBERRAUCH INFO@OBYPHOTO./DANIELE OBERRAUCHD
This September's 50th anniversary Bottega Veneta show didn't just include an intergenerational aww moment from Lauren Hutton and Gigi Hadid, but also a combination of the men's and women's collections on the runway. Now, the Italian house is adopting co-ed shows as a matter of course, according to a statement from the company. Beginning in 2017, Bottega will show its men's and women's collections at the biannual Milan women's fashion weeks in February and September.
According to the release, the inspiration came from the September show. The statement added, "The Bottega Veneta universe is built on both genders. As a consequence, showing both women and men together is an organic move that follows the evolution of Tomas Maier's creative vision."
Bottega isn't the first house to make a move like this: Earlier this year, Burberry switched over to co-ed shows, and Gucci and Vetements recently revealed plans to do so for 2017. Maybe next year will finally mark the point that gender becomes irrelevant in fashion.