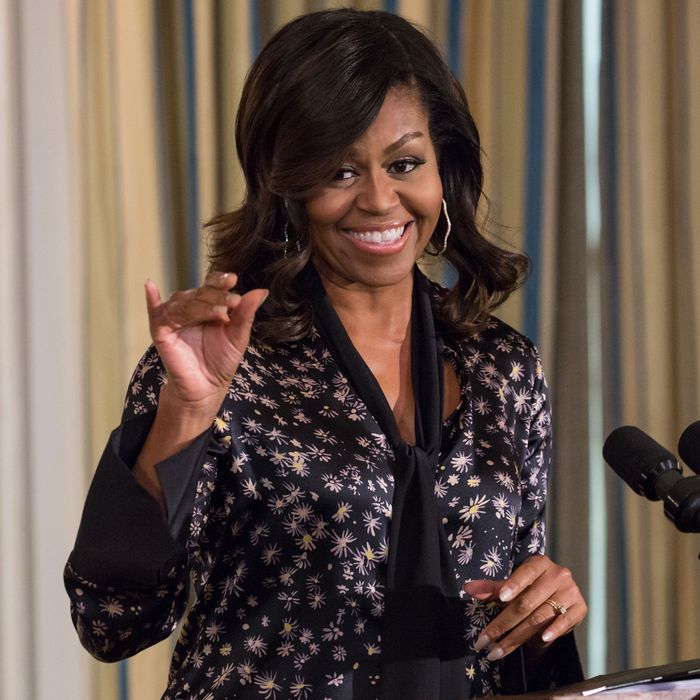 Don't go, Michelle!
Photo: Cheriss May/NurPhoto via Getty Images
Going into this election cycle, Michelle Obama had nothing to prove. She'd passed the test long ago, with a 2008 Democratic National Convention speech that proved to be a turning point in her career as First Lady. But this year she somehow one-upped herself, delivering groundbreaking speech after groundbreaking speech and quickly becoming one of Hillary Clinton's most important surrogates — the power player her campaign deployed when it needed to sway opinion in its candidate's favor.
We're going to miss Michelle Obama's speeches. But more than that, we'll miss having her in the White House. From her dazzling gowns to her incredibly effective campaign to end childhood obesity, here are some of the reasons we'd prefer Michelle Obama to take up permanent residence on Pennsylvania Avenue.
Her impeccable mom dancing. Whether you're a Democrat or a Republican, you have to admit: The First Lady can break it down. She's made guest appearances on shows like The Tonight Show Starring Jimmy Fallon and The Ellen DeGeneres Show, and each time she proves exactly how adept she is not just at dancing, but at dancing exactly like your mom. Even better, she uses her mom-dancing prowess to talk her kids into behaving — genius.
Her mom-ness in general. Motherhood has been a cornerstone of Michelle Obama's image since she campaigned alongside her husband in 2008. But somehow, over the course of eight years, she's become your mom, too. She gives her dogs massages and lays on the floor with them and blows in their faces, just like your mom does. She embarrasses her kids with gross Valentine's Day poems, just like your mom does. And it's easy to imagine her hugs, because they're just like your mom's. Don't leave, mom!
Her fearlessness. Michelle Obama will not take your shit. Whether you're protesting her speech at a private fundraiser or you're a teenage girl chasing boys instead of hitting the books, she didn't have time for your foolishness at age 10, and she doesn't have time for it now. The First Lady gave America tough love, and America is better for it.
Her social media presence. Although she's dead-set against "popping off" on social media, the First Lady quickly mastered tools like Vine, Twitter, and Snapchat to better reach the target audience for her "Let's Move!" campaign: kids and teenagers. Her "Turnip — for what?" Vine ought to have singlehandedly kept the site afloat.
Her subtle shade. This election cycle has brought few joys, but one of those joys has been watching Michelle Obama subtly knock Donald Trump. The First Lady deployed expert shade when she referenced Trump at the Democratic National Convention at least half a dozen times without once saying his name, and she built on that success with a mike tap and a pointed reference to "an adult." FLOTUS is the shade master.
Her impeccable style. Whether she's sporting J.Crew on The Tonight Show or H&M in Detroit or flame-red Jason Wu for her husband's second inauguration or the most flawless copper-colored Versace gown during her final state dinner at the White House, Michelle Obama's taste has always been on point. And, equally as important, she knows when it's okay to dress down.
Her tide-turning speeches. More than anything, this election cycle has been a reminder that Michelle Obama is one of the finest orators in the country. Her Democratic National Convention speech brought down the house, particularly the line about her daughters. "I wake up every morning in a house that was built by slaves and I watch my daughters — two beautiful, intelligent, black young women — playing with their dogs on the White House lawn," she said, to thunderous applause.
More recently, in the wake of the multitude of sexual assault accusations against Donald Trump, the First Lady gave a speech in which she talked about what it means to be a woman in a society dominated by men. "I feel it so personally," she said. "The shameful comments about our bodies, the disrespect of our ambitions and our intellect, the belief you can do anything you want to a woman? It's cruel, it's frightening. And the truth is that it hurts — It hurts." Her campaign speeches have a historical quality about them, and they'll go down in history just as she will.