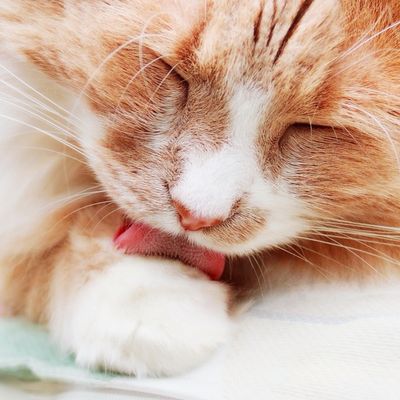 Photo: Nathalie Deslauriers/EyeEm/Getty Images
Not since the invention of wine for cats has there been a news story so targeted to the interests of the modern-day cat lady. Researchers at Georgia Tech, led by Ph.D. candidate Alexis Noel, discovered that the texture of a cat's tongue allows it to function like a super-efficient detangling hairbrush.
While it was previously believed that cats' tongues are textured like sandpaper, they're actually made up of tiny keratin hooks that can move in four different directions, gliding over fur and pulling apart any snags they encounter.

Per the Washington Post, Noel's looking to use her team's 3-D-printed cat tongue as a possible model for a new hairbrush. So not only can you drink with your cat in the future, you'll be able to get ready together — just like the roommates you already are.