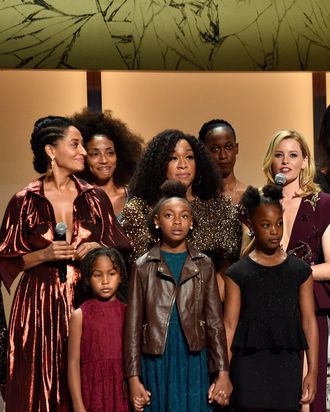 Tracee Ellis Ross, Shonda Rhimes, Elizabeth Banks, and others gave thanks at Glamour's Women of the Year awards.
Photo: Stefanie Keenan/Getty Images for Glamour
On Monday night, Glamour gave out its Women of the Year awards to a handful of extraordinary ladies (and, uh, one man), including Olympic gymnast Simone Biles, anti-ISIS activist Nadia Murad, and Stanford sexual-assault survivor Emily Doe. On the topic of Bono's award, Amy Poehler said everything you're thinking: "What an exciting time for men, finally!"
Another woman was honored throughout the night, though she wasn't an official award recipient: Hillary Clinton. The evening opened with emcee Tracee Ellis Ross letting out a poignantly funny primal scream in reaction to the election, and ended with a stage full of celebrities, each voicing their heartfelt thanks to the almost first female president.
Shonda Rhimes: "She had the courage to be the one to raise her hand and say, I will do this, for all of us. She was outspoken and noisy and opinionated, for all of us. She had the audacity to believe she could be anything she wanted, for all of us. She went toe-to-toe with any bully trying to make life harder, for all of us. Thank you, Hillary, for defending, without hesitation, a woman's right to choose."
Lena Dunham: "All this time, Hillary Rodham Clinton has been forging a path to a place where it is not only okay, it is required to be unapologetically competitive, beautifully intelligent, and the smartest person in every room."
Ibtihaj Muhammad: "Hillary, we want to thank you for fighting so hard, and going so far. You've been a constant champion of tolerance and acceptance, in the face of hatred, bigotry, and discrimination. For that, we thank you."
Chelsea Handler: "We thank you for reminding us that we cannot cede to old expectations. We are powerful, and together we must create new ones."
Mary Steenburgen with Ted Danson: Mary: "We thank you for your continued fight against climate change, and your advocacy for this planet, our home." Ted: "Because, in case anyone hasn't noticed, it's getting a little warm around here."
Adam Scott, with his daughter and son: "Thank you for showing my daughter that people in power could look like her, and for proving to her and my son that leadership doesn't need a necktie."
Constance Wu: "Thank you for making it clear that if you want to close the gap between genders, close the gap between our paychecks, especially for women of color."
Elizabeth Banks: "We thank you for bravely taking your shot and still standing tall. We thank you for your composure, your compassion, and your grace, and for always looking so darn fierce in those frigging pantsuits."