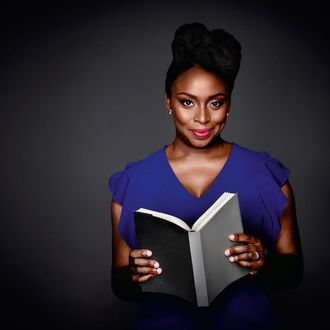 Chimamanda Ngozi Adichie for No.7
Photo: Courtesy of Boots No.7
Chimamanda Ngozi Adichie is the hope we need right now in this world. If you've been struggling to feel joy in the past few weeks, read this delightful interview Adichie did with Racked, talking about her role as the beauty ambassador for No.7. Here are some highlights:
On why the writer decided to say yes to the gig:
My initial response was that it just seemed so strange and out there so I thought, No. But I thought about it a little more and I realized there was a good possibility of being sent a lot of free makeup. [Laughs]
On putting anything on your face you damn well please:
I think that for a while I just thought that I couldn't possibly wear the lipstick I wanted to wear because I felt that I would be judged. I think that changed just with getting older, getting more comfortable in my own skin, and realizing that life is so damn short. There is just no point in living life based on what you imagine people expect.
On the simple pleasure of a job well done:
On the days when I think my cat eye is good, it just makes me happy.
On Alicia Keys and "no makeup":
That's my hope and my prayer for women, that women are allowed to be whatever version makes them feel truly like themselves. For some women it's exactly what she's done, which is that she took the mask off. For other women it's the opposite. I remember actually not wearing makeup and feeling false because I wanted to wear lipstick.
On thinking about beauty and dry skin in the Trump era:
I think America is at a strange place now. But I think women still need to know what damn moisturizer works in the winter! As I mourn, and for me the election result is a case for mourning, I still want to know what moisturizer will keep my winter skin from being too dry.
On getting over post-election guilt:
There are different forms of resistance. Sometimes just the fact that one continues to do what one is doing is also a way of speaking out for something.
You heard Chimamanda. There's no excuse for having dry skin.