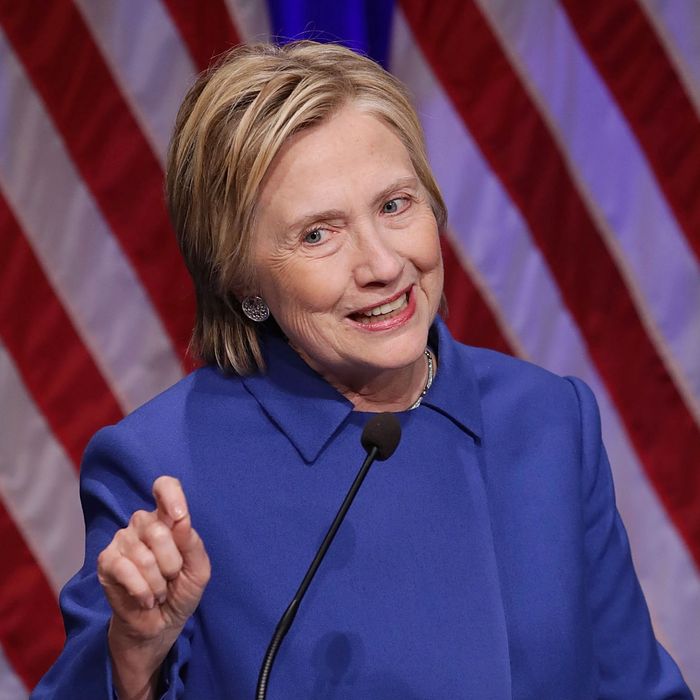 Hillary Clinton delivers remarks while being honored by the Children's Defense Fund.
Photo: Chip Somodevilla/Getty Images
"I will admit coming here tonight wasn't the easiest thing for me," said Hillary Clinton at the Children's Defense Fund's gala in Washington, D.C., Wednesday night. She went on, "There have been a few times this past week when all I wanted to do is just to curl up with a good book or our dogs and never leave the house again." But in her first public appearance since losing the electoral vote to Donald Trump, Clinton told her supporters that the most important thing was to keep up the fight.
Clinton was being honored at the gala for a lifetime of service, and she made service an integral part of her speech. "I know many of you are deeply disappointed about the results of the election," she said. "I am too, more than I can ever express. … [But] service is the rent we pay for living. You don't get to stop paying rent just because things didn't go your way."
She went on to tell her supporters that now, their voices matter more than ever.
"We have work to do. I ask you to stay engaged, stay engaged on every level … America needs you, your energy, your ambition, your talent. That's how we get through this. That's how we help to make our contributions to bend the arc of the moral universe towards justice."
According to NBC, the event felt like a wake for Clinton's campaign — members of her staff lined the walls, and her press corps briefly reassembled. But Clinton has no further public appearances on her immediate calendar.