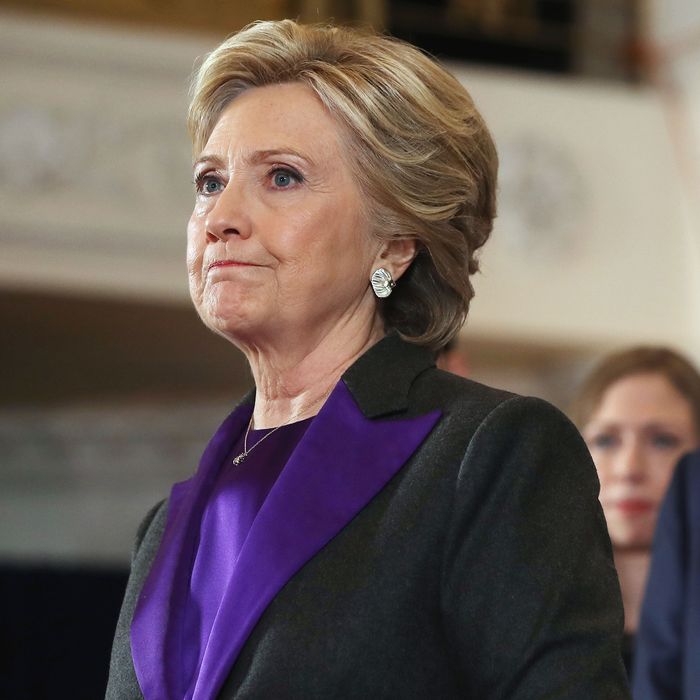 Hillary Clinton's speech was historic in more ways than one.
Photo: Justin Sullivan/Getty Images
When Hillary Clinton conceded the presidency to Donald Trump, she began her speech with an apology. "I'm sorry," she said. "This is not the outcome that we wanted and we worked so hard for, and I am sorry that we did not win this election."
According to Fortune, which analyzed the transcript of every presidential concession speech dating back to 1952, no candidate has ever apologized, making Clinton the first.
Even in the particularly bitter race between George W. Bush and Al Gore in 2000, Gore didn't apologize for losing. "Some have asked whether I have any regrets," he said instead. "And I do have one regret: that I didn't get the chance to stay and fight for the American people over the next four years."
And Trump, of course, is famous for withholding apologies at all costs. "I fully think apologizing's a great thing, but you have to be wrong," he told Jimmy Fallon during the campaign. (He did apologize for his 2005 comments about groping women, but he stopped just short of saying the words I'm sorry.)
Of course, research suggests that women are more likely to say sorry than men, even when they haven't erred. But linguists say that, over time, the meaning of the word has changed. Deborah Tannen, a Georgetown University linguist, said the phrase is not so much an apology as "a way of taking into account the presence of another person." So in a way, Clinton's apology was an acknowledgment that, in this fight, she was not alone.