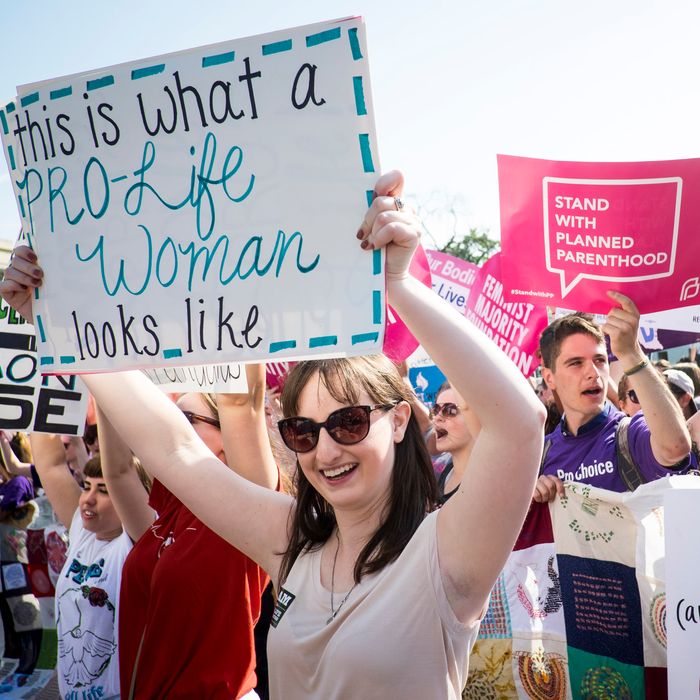 Roe v. Wade is in danger.
Photo: Pete Marovich/Getty Images
In a November 13 interview with 60 Minutes, Lesley Stahl asked President-elect Donald Trump to clarify whether he planned on going after Roe v. Wade as he had threatened during his campaign. Trump had already started to go back on certain campaign promises — suddenly he claimed to want to keep parts of the Affordable Care Act in place after threatening to gut it. No one really knew where Trump stood on women's health at that point, so Stahl asked if he would, in fact, appoint Supreme Court judges with the intention of overturning the pivotal 1973 decision that legalized abortion in the United States.
"I'm pro-life. The judges will be pro-life," Trump said. After briefly (and nonsensically) segueing into Second Amendment rights — or as he called it, "the whole gun situation" — Trump added that if Roe were to be overturned, states would have the authority to regulate abortion within their borders. A woman living in a state where abortion would become illegal could "go to another state" if she wants the procedure, Trump noted.
After a campaign marked by misogyny and bigotry, many women across the country have been terrified as to what a Trump presidency would mean for their reproductive rights. Some hoped that perhaps he was just posturing on the campaign trail, while others feared the worst and have been rushing to get an IUD before he takes office. Trump's remarks on 60 Minutes were the first formal acknowledgment of the severe threat he poses to women's health, and points to an uncertain future for abortion in America. Trump himself doesn't appear to be passionately against abortion, but his vice-president-elect, Mike Pence, is vehemently anti-abortion. However, Trump's administration won't be the first to go after abortion rights, and there's reason to believe that they will fail as others have before him, according to Julie Rikelman, the vice-president of the U.S. legal program at the Center for Reproductive Rights.

"He certainly poses a threat, and we definitely need to be concerned, but we do not believe that Roe v. Wade would be overturned at this point in time," Rikelman told the Cut. "The precedent has been enforced for over 40 years, and it has survived throughout a variety of administrations that were both pro-choice and anti-choice, including administrations where there has been an effort to put anti-choice justices onto the Supreme Court."
More than 40 years ago, the Supreme Court ruled 7-2 in favor of a woman called Jane Roe, a Texas mother in her 20s, in her fight against Dallas County district attorney Henry Wade and the state's abortion law. The ruling established that the decision to terminate a pregnancy was between a woman and her doctor, and protected under the constitutional right to privacy. Since then, there have been a number of attempts to overturn the rights afforded to women by Roe. There was the 1979 attempt to require parental consent for minors seeking an abortion, which was struck down in Bellotti v. Baird, as well as the 1980 Hyde Amendment that blocked Medicaid from covering most abortions, which was upheld by 5-4 by the court in Harris v. McRae.
Less than ten years after Roe was decided, President Ronald Reagan entered the White House in 1981 with a decidedly anti-abortion agenda. "With me, abortion is not a problem with religion; it's a problem of the Constitution," Reagan said in 1984. "I believe that until and unless someone can establish that the unborn child is not a living human being, then that child is already protected by the constitution, which guarantees life, liberty, and the pursuit of happiness to all of us."
During his two terms as president, Reagan appointed three justices to the Supreme Court: Sandra Day O'Connor in 1981, Antonin Scalia in 1986, and Anthony Kennedy in 1987. He also elevated conservative William Rehnquist to the position of chief justice in 1986. Reagan believed the justices he appointed would overturn Roe, according to Erwin Chemerinsky, dean of the UC Irvine School of Law.
However, Kennedy ended up becoming the unexpected swing vote in favor of abortion, alongside O'Connor (though her support of abortion wasn't as surprising, since she was the first woman appointed to the Supreme Court). "The bottom line is, the reason Roe didn't get overruled was that Kennedy voted to affirm Roe v. Wade in 1992 in Planned Parenthood v. Casey," Chemerinsky told the Cut. "We know he originally voted in that case to overturn Roe, and then changed his mind."
In June of this year, Kennedy once again served as the swing vote to protect abortion in Whole Woman's Health v. Hellerstedt, a decision that overturned two Texas abortion restrictions. "It was a big win for women, for the rule of law, and for science," the Center for Reproductive Rights' Rikelman told the Cut. "What the Supreme Court said in that case was not only is the constitutional right to abortion a meaningful right and an important right that just can't be restricted for any reason, but it said that when states restrict that right, they have to have good reasons for doing so that are based on real evidence, not junk science."
As it stands, there has been a vacancy on the Supreme Court since Justice Scalia passed away in February. Scalia has not yet been replaced because Republicans have steadfastly refused to confirm President Barack Obama's nominee Merrick Garland. Therefore, Trump is expected to nominate a new justice to the court once he enters the White House, presumably picking someone from a list of 21 potential nominees he presented during his campaign. Each of Trump's potential candidates are known for being quite conservative and, for the most part, extremely anti-abortion. One of them, Charles T. Canady, a former member of the U.S. House of Representatives, came up with the highly misused term "partial-birth abortion" when helping to develop the Partial-Birth Abortion Ban of 1995. Eighth-circuit judge Steven Colloton, who upheld a South Dakota law that doctors must warn women who have abortions that they are at risk of suicide, is also up for the job. Likewise, 11th-circuit judge William H. Pryor has called abortion "murder" and referred to Roe as an "abominable decision."
Replacing Scalia with another conservative would merely restore the status quo of the court, said Michael Klarman, a constitutional law professor at Harvard School of Law. Yet there's a chance that Trump may get to appoint additional justices during his tenure as president, since three of the liberal justices are quite old: Ginsberg is 83, Kennedy is 80, and Breyer is 78. "In the last 40 years, justices usually don't choose to retire under presidents of the opposing party; it's very unusual for them to do so. Scalia would never have voluntarily done so, but he couldn't control the timing of his death," Klarman told the Cut. Should one or more of these justices step down or pass away while Trump is in office, Roe could be at risk.
However, the Center for Reproductive Rights believes that even with the appointment of two or more additional conservative judges, Roe will likely remain intact. That's because the court doesn't tend to go against its own precedent, and would be putting its "institutional legitimacy on the line" if it overturned Roe merely because its composition had changed, according to Rikelman. Furthermore, the court likely wouldn't want to appear political by changing its mind because there's a new administration in the White House. But Chemerinsky isn't so sure. "If Ginsberg or Kennedy or Breyer leaves the court, there will be five votes to overrule Roe v. Wade – and it's going to be overruled," he said.
Regardless, there are a number of cases in the works that could potentially serve as a vehicle for the Supreme Court to reconsider Roe in the next few years. "Between 2010 and 2015, states adopted 290 different laws imposing restrictions on abortions, and many, many of these laws are being challenged right now in federal courts," Chemerinsky said. Additionally, the Pain-Capable Unborn Child Protection Act, which has already passed through the House, is seen by many as an attempt to circumvent Roe. The act would restrict abortion after 20 weeks, by claiming that a fetus can feel pain at that point. But according to Rikelman, there's no "credible, medical" evidence that shows a fetus could feel pain at that point in a pregnancy. Instead, the law would merely "deprive women of their constitutional rights," she said.
If Roe ever were to be overturned, though, women nationwide would face significant health risks, as abortion regulations would be decided by individual states. Those in certain "blue" states, such as New York and California, would still have the same access to abortion they do now, but women in more rural and conservative states might have to travel long distances or consider unsafe or illegal means to end a pregnancy. "We know, both from before the time when Roe v. Wade existed in the United States and from what happens elsewhere in the world, that women suffer, their health suffers, and unfortunately women die," Rikelman said.