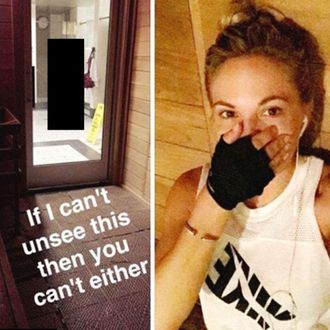 Photo: Courtesy of Snapchat/Dani Mathers
Back in July, Playboy model Dani Mathers was widely criticized after she Snapchatted a nude woman in her gym locker room to all her followers with the comment "If I can't unsee this then you can't either." She issued an apology that basically amounted to "I thought I was only sending it to one friend," but her insensitive critique of the stranger's body was the least of her issues — secretly photographing someone in the nude is a crime in California.

In September, the LAPD tracked down the subject of Mathers's Snap — a woman in her 70s — and it was reported that she was willing to cooperate with them. On Friday, TMZ reported that Mathers has been charged with invasion of privacy by the L.A. City Attorney and could be facing up to six months in jail.