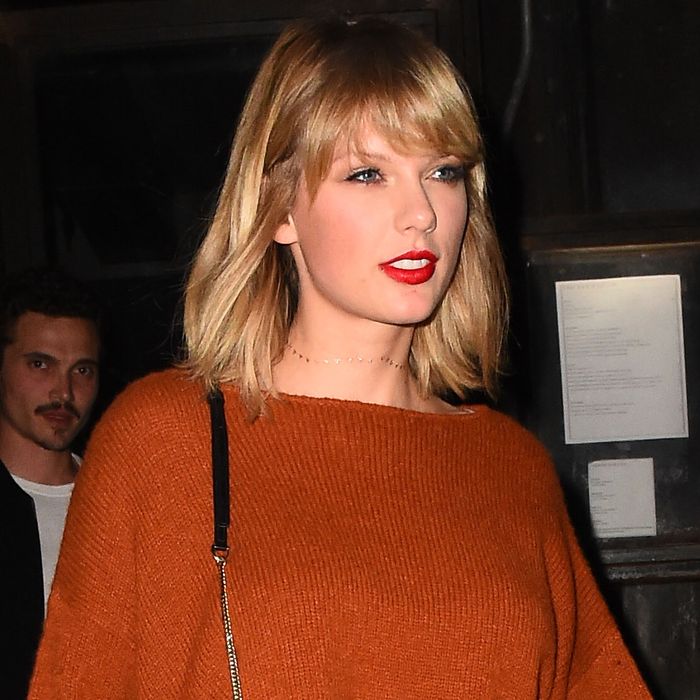 Taylor Swift.
Photo: Raymond Hall/Getty Images
The DJ Taylor Swift accused of groping her has publicly declined doing so, offering his own details about what allegedly transpired.

Before we get there, a quick recap of what's gotten us to this point: Taylor Swift is in the middle of a counterclaim against a local DJ whom she alleges groped her butt at a meet-and-greet back in 2013. The DJ in question, David Mueller, sued Swift for defamation, saying her claim cost him his job after her security team complained about his supposed actions. He said that his boss at the radio station may have been the guilty one instead. Swift, however, filed a counterclaim saying Mueller was, indeed, guilty of sticking his hand up her skirt and grabbing her bare butt. Finally, in October, Swift's deposition on the matter became public, and we learned that she holds absolutely no doubt in her mind that Mueller was the culprit. "It was completely intentional, I've never been so sure of anything in my life," she said in her deposition.

On Tuesday, Muller appeared on the 955 Detroit morning show, "Mojo in the Morning," and recounted his version of what allegedly happened. According to "Page Six," Mueller said that Swift has changed her story. He was adamant in telling the radio-station hosts that he never groped Swift, but that their hands touched and their arms crossed. Here is what he says occurred:

"My right hand — I'm looking at the photographer and I'm trying to get my right hand, you know, behind Taylor, because [another DJ] was on the other side of Taylor," he continued. "My other hand I think was just on my belt or on my pocket, my left hand. So my right hand, I've got my hand closed and my palm down, and I reach behind, toward Taylor. Our hands touched and our arms crossed. That's all I remember."
Mueller previously leaked a photo from the meet-and-greet with Swift in 2013, which shows him with his hand awkwardly behind Taylor's bottom. His defense told TMZ that the suspicious hand position was due to him leaning in at the last minute for the photo and that the photo only shows his hand was not up her skirt. Either way, that explanation — coupled with Mueller's recollection of what happened — isn't likely to square well with Swift. In her deposition, she said she remembered feeling "frantic, distressed," and "feeling violated in a way I had never experienced before."