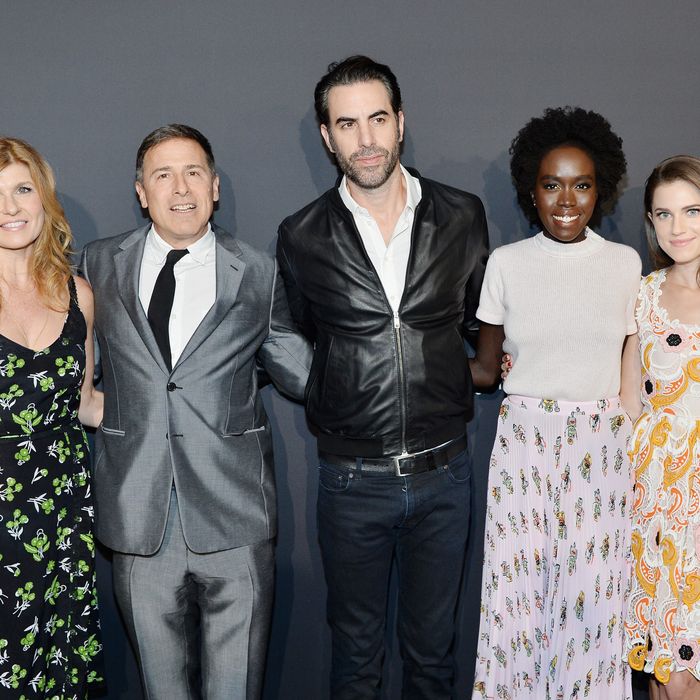 Cast members of Past Forward with David O. Russell at last night's L.A. premiere of the film.
Photo: Stefanie Keenan/Getty Images for PRADA
We're firmly in the era of elaborate fashion films, but Past Forward — David O. Russell's directorial effort for Prada — might be the most ambitious of its kind, unspooling a mile-long list of Hollywood credits at the end. Selections from the 18-minute film were shown during the brand's spring 2017 show in Milan this September, and the full-length version premiered last night in Los Angeles.
The nonlinear story centers around three glamorous women — played by Freida Pinto, Allison Williams, and newcomer Kuoth Wiel — who act out parallel stories, set in a dreamlike, black-and-white world. The cast also features Connie Britton, Sacha Baron Cohen, and John Krasinski, among others. Today, the film is going wide, with simultaneous screenings set to take place in Tokyo, Shanghai, Berlin, London, Milan, Paris, Moscow, Istanbul, and Sydney.
"Nobody made a nickel; we all just made it to do it. We made it in four days," a silver suit–clad Russell told the Cut last night at the premiere. He felt lucky, he said, to have Miuccia Prada's blessing to take the story in an unusual direction: she told him, "You can do whatever you want."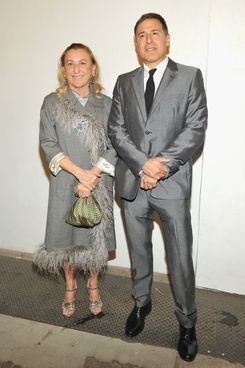 The film's Hitchcock influences are immediately apparent — in the piled-high hairdos of its three heroines, the creeping sense of menace as they navigate futuristic worlds, and the score, which includes selections from Bernard Herrmann's soundtracks for North by Northwest and Vertigo. Russell noted that the film "was obviously influenced by Hitchcock, which I feel is timeless, so I guess it's me loving that." Fashion is a through-line as well, but it's seen subtly — in shots of a Prada bag or high heels abandoned on an airport floor, for example. His focus, he said, was "really about the emotions, and that specific memory of what people are wearing."
The multiracial casting — including the triple-casting of Williams, Pinto, and Wiel — was an important part of the project for him. "It was interesting for me to see three different actors as an experiment in cultural identity," he said. "I showed it to the founder of the Ghetto Film School and his one comment, which I never thought of, was 'It's very unusual to see people of color in that world, which is a sort of a classic '50s world but also a futuristic world.' So I just thought it was a great experiment, as a director and a filmmaker to see three different people play each part."
The film ends with a kinetic dance sequence choreographed by Mandy Moore (no, not that Mandy Moore) who worked with Russell on Silver Linings Playbook and also choreographed the upcoming La La Land. That finale helps cut the tension of the earlier scenes. "The celebration of love and music is one of those experiences I just love seeing in film," Russell said. "So it's a really joyous way to enter the third act."
Past Forward premieres on Prada.com tomorrow.