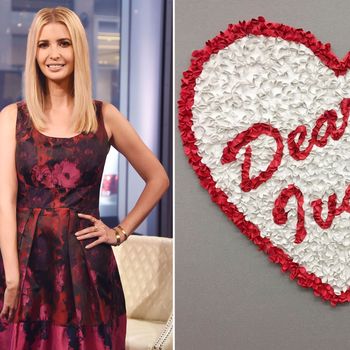 L: Ivanka Trump.
Photo: Getty; Courtesy of Instagram/dear_ivanka
President-elect Donald Trump's eldest daughter, Ivanka, has long been the poised and polished face of the Trump brand — an outwardly elegant model turned businesswoman who serves to distract from everything her father says and does and stands for. Throughout his presidential campaign, she's faced criticism for continuing to support him, including from the #GrabYourWallet campaign, meant to encourage people to boycott her brand's products. Now, a new Instagram account calls her out directly for staying silent about his rhetoric and actions.

"Dear Ivanka," started six days ago, juxtaposes glamorous shots of Ivanka with concerns from people who feel that they will be marginalized under a Trump presidency. For instance, one caption reads, "Dear Ivanka, I've been raped and I need to have an abortion."


"Dear Ivanka, I'm an American Muslim and I was attacked on the subway," reads another.

Most recently, Halt Action Group, the people behind the account, announced that they would be holding a candlelight vigil outside of Ivanka's place — the Puck Building in Nolita — on Monday, November 28, at 6 p.m.

It's unclear how many people are behind Halt Action Group, though curator Alison Gingeras and artist Jonathan Horowitz have been identified so far. There is also speculation that Arden Wohl, the socialite and shoe designer, is part of it, as Dear Ivanka posted a photo of Wohl and Ivanka five days ago, with the caption, "@dear_ivanka will you keep another Jew like me safe from Steve Bannon and the KKK? From @ardenwohl." Wohl has also posted about the vigil on her personal Instagram.

Halt Action Group provided the Cut with a letter to Ivanka that they will be distributing at the vigil. It reads, in part:

"Because you are an official member of your father's transition team, we wanted to appeal to your rationality, and your commitment to protecting the rights of all Americans, especially women and children. As your father has said on countless occasions, you are the one who really has his ear."

Another flier urges Ivanka to take action against her father's proposed policies and cabinet appointments.
Racism, anti-Semitism, misogyny, and homophobia are not acceptable anywhere—least of all in the White House.

Steve Bannon has no place in the White House. Jeff Sessions has no place in the White House. Talk of a Muslim registry has no place in the White House.

Hate has no place in the White House.

We refuse to "wait and see." We look to you as the voice of reason.
The Cut will update this post as new information becomes available.