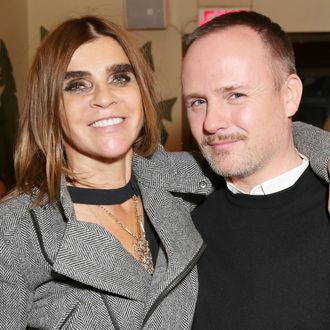 Photo: David X Prutting/BFA.com
If you once paid $100 for a bottle of green Chanel polish on eBay, blame makeup artist Peter Philips. The former creative director of Chanel Makeup and current creative and image director for Dior Beauty is the man responsible for some of the most iconic, covetable beauty trends and images of the past few decades. Crystal eyebrows? That was him. The Raf Simons Mickey Mouse makeup? All Philips. The full face masks on Björk? Again, his work. To celebrate Dior's decades of beauty heritage, the fashion house and Philips recently debuted The Art of Color, a new book celebrating the brand's past and current makeup creative directors. The Cut talked to Philips about his thoughts on the no-makeup movement, how social media helped Dior's grey lipstick sell out, and what RuPaul's Drag Race has contributed to beauty.
How did the book come together?
It represents the eras of Dior, with previous makeup creative directors Serge Lutens and Tyen. We started the book about a year and a half ago. We worked with Marc Ascoli, the book's art director, to do different chapters in the book that each represented a particular color. Then Marc had this genius idea to link each chapter with art pieces because Christian Dior owned art galleries in the early years. Often people want to do an epilogue for the book. Marc twisted that idea by adding an original portfolio of beauty images. At the end, you'll see an homage to each of the colors from the chapters on one girl. We did a three-day shoot of Julie Hoomans with Richard Burbridge.
Alicia Keys and other celebrities have been wearing no makeup in public. As a makeup artist, have you ever done no makeup, period?
For shows, it can be tricky because not every model has the skin to go barefaced. At Dior [runway shows], I used a light coating of foundation and pink eye shadow to give the illusion of nothing. But for shoots, I've forgone makeup more than once. It depends on what you want to say and on the photographer: what he wants, expects, the light he uses, the quality of his pictures, and his film.
No makeup is no big deal. I say to my assistants, "You have to step back." I've got my suitcase full of products, and containers with lipsticks, mascara, and all kind of glitters, and then there's one little container that is empty. You have to take that empty container, and think about what will go into it to create your look. Sometimes it can remain empty. If the girl is there, the light is perfect, the skin is great, nothing can be enough. A good makeup artist must be able to edit themselves and create a statement through restraint.
What type of statement do you think no makeup makes?
That everything is perfect the way it is. We don't have to enhance or cover up. But we also work with models, so their job is to be flawless or give the appearance of flawlessness, even with their faults. No makeup is a glorification of natural beauty.
Some people might think it's funny for a makeup artist to do no makeup. It's a little like being a chef and giving people raw vegetables when they come to your restaurant. But it's the choice that seems important?
Makeup is a choice. Nobody is obliged to or forced to use makeup or to wear makeup. But once you know about makeup and the ingredients you can play with, you can make — continuing your analogy — a meal which is as light or as heavy or as spicy or sweet as you want.
It's knowing the ingredients and how to play with what fits your personality or the occasion. When I do makeup for shoots or shows, I use my ingredients and make my own little recipe. It has to appeal to the taste of the designer, because when I do a show I have to complete her or his vision.
You're new to social media. What have you learned about beauty from social media?
Makeup and beauty is democratic. It's accessible for everybody, and you can become an expert on a topic in almost a day. All the information is there, and that's a good thing because it means that everybody can play, dare, discover, make their own recipes, and do whatever they want to do with makeup.
As somebody who creates products, it stimulates me to try to be ahead of trends and to create products that will seduce women. I never believed in dictating trends because that time when collections came out and women had to wear a certain skirt length or color or eye makeup to be in fashion is long gone.
When women buy into makeup it means that they appreciate it, they love it, and they see something in it that they can use. Social media is really important because it pushes us to make sure that our formulas are keeping their promise. If it's not good, it can be criticized straight away. If it's good, people will talk about it.
The new lipstick range, Rouge Dior, comes in some unusual colors — there's green, yellow, navy blue, grey. Why did you want to create those shades, especially when you knew they might not be well-received?
It's actually a mix of personal and professional desire. I knew I had to make a range of essentials, so there are 35 shades of reds, pinks, beiges, nudes, and corals. There are some matte because I thought we desperately need matte at Dior. Then I did a range of crazy colors which I created for me personally. But we found out the factory could also produce them for the market.
Funnily enough, girls started buying into [the crazier colors.] I've seen the girls at the Dior Beauty counter, and they were so enthusiastic about the shades. It's really shown how fun makeup can be. I just found out yesterday that these shades will be part of the range we unveil in Japan. In most countries, the grey is even sold out. It's contagious!
And with social media, there's been more of that feeling that makeup can be for play, not just function.
Five years ago, when I did interviews for magazines, more than 50 percent of the questions I got were solutions for makeup problems or quick tips. I almost felt like a doctor. It seemed as though makeup was a big stress factor for most women. But since the dawn of social media, the questions I get now are totally different. They're more like, Where can I get that color? That formula? There's a big shift in the mentality.
Makeup is not permanent. It's not like a tattoo. If that red isn't right for today, it can be something else tomorrow. That takes a lot of the pressure away from women. I'm 100 percent convinced that like even something like RuPaul's Drag Race has a huge impact on how women and men view makeup. I mean, if a guy can look like a goddess, maybe that means that the regular woman just needs 20 percent of what he does. It's really opened up a lot of doors for women that were closed. It's a good thing.