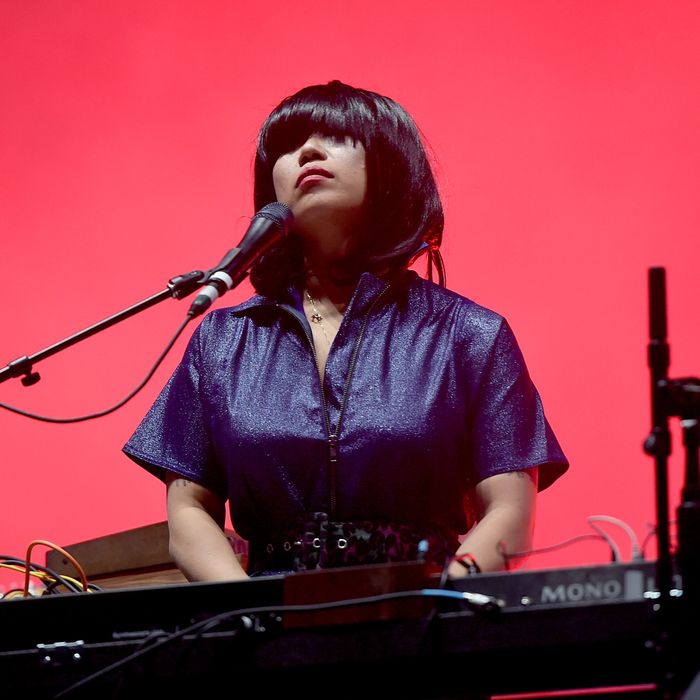 Photo: Kevin Winter/Getty Images for Coachella
Musician Nancy Whang would rather you not focus on her during a live set, but since mega-DJ culture has shifted audience attention from what's on the dance floor to who's behind the turntable, she might as well dress up. For example, at last summer's Panorama music festival, Whang took the stage in a bright fuchsia jumpsuit. Tonight, she'll slip on Dior at the fashion house's Guggenheim International Gala Pre-Party made possible by Dior, where she'll set a downtown electro-mood alongside alt-R&B pop star Banks.
DJ-ing solo is an adjustment for Whang, who played with cult dance-punk band LCD Soundsystem for a decade until they took a hiatus in 2011 and is a member of electronic group The Juan Maclean. Tonight won't be her first fashion rodeo, though — Miu Miu, Margiela, and Prada have invited her to perform at their events before.
Ahead of the Guggenheim International Gala Pre-Party made possible by Dior, Whang spoke to the Cut about leaving a predominately male band, being in the spotlight, and why you shouldn't focus on the DJ at a party. Read the interview below.
Has it been difficult to break away from LCD Soundsystem and create a name for yourself as a separate artist? Did you have any mentors guiding you through that change?
This is sort of ironic but because I was the only woman in the band, I'm more identifiable. Honestly, I'm so used to being around guys all the time that it's what feels normal to me. To be a solo female artist was really just new. I wasn't quite sure how I felt about it, and what my position was on it yet.
Karen O [of the Yeah Yeah Yeahs], she's an amazing performer, can do incredible things with her voice, and she's half Korean [like Whang]. It's good to have somebody like her doing what she does [front-running an all-male band] and staying as successful as she is. You have to see yourself in other people.
The #Thisis2016 hashtag was set up by Michael Luo in October to help Asian-Americans share their experiences, have you been following it?
Any marginalized group of people, any time they they ask for equal footing, there's always the majority that says no and you have to fight to get ahead. So I do think there's going to be a period of friction. As more people see us, a lot of them aren't going to like what they see.
What is it about a fashion crowd that makes you feel more comfortable?
When you're DJ-ing at a club, you're judged for what records you're playing and how well you're mixing, and you have to work harder to get people to dance. Sometimes there are a lot of heads interpreting your DJ set rather than just enjoying the music. Fashion parties, on the other hand, are really light-hearted. People go there to get free cocktails and hang out with other fashion people. They're fun for me because I can play weird stuff and not have to worry too much. No one is judging my mixing skills or how esoteric my record bag is.
This interview has been edited and condensed.