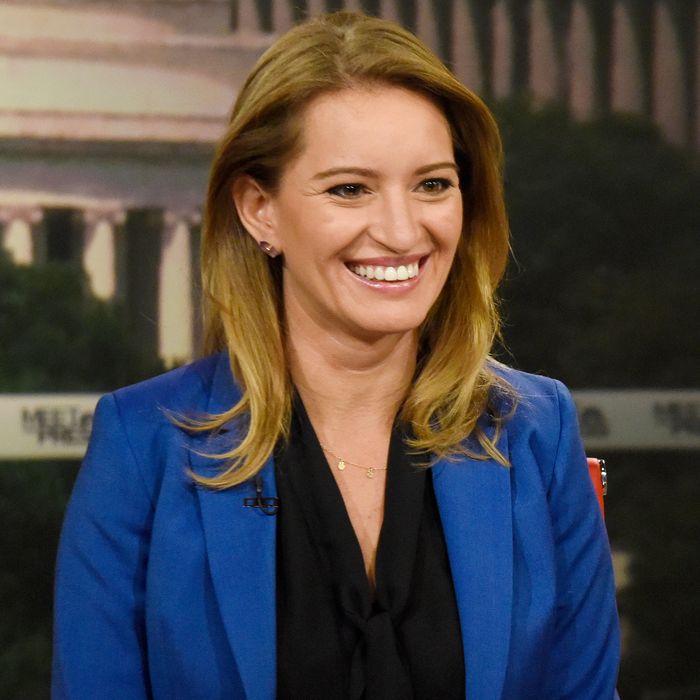 NBC News journalist Katy Tur.
Photo: NBC NewsWire/NBCU Photo Bank via Getty Images
Just one day after the Democrats nominated the first-ever female presidential candidate back in July, Donald Trump told a female reporter to "be quiet" during a live press conference. That reporter was NBC's Katy Tur, and it wasn't the first time Trump had used demeaning language to address her — he's repeatedly called her "little Katy" and a "third-rate reporter" on the campaign trail.
Trump continued his vendetta against Tur during a rally in Miami on Wednesday night, where he again called her out by name. "There's something happening. They're not reporting it. Katy — you're not reporting it, Katy," Trump said, after accusing the media of not showing the size of the crowds at his rallies. "But there's something happening, Katy. There's something happening, Katy."
Tur later responded to Trump's comments on MSNBC, calling his claims "factually untrue." "Often times when he's playing to the camera and saying we don't move our cameras to show these crowds, the cameras are all looking in opposite directions showing the crowds," she said. She went on, "Donald Trump also does know this to be incorrect — he's joked in private with reporters about how he understands how the pool camera works. This is a shtick that he does to rile up his base — it's to give him an excuse to berate somebody other than Donald Trump."

Of course, Trump's behavior on Wednesday isn't out of line with the way he's treated female journalists throughout his campaign. And although his outbursts aren't blatantly sexist, they carry a real threat to the women covering him. As Tur said, "It is a unique experience to have … a stadium of ten-plus thousand people booing you, and it's especially unique when they're actually saying your name and looking directly at you."