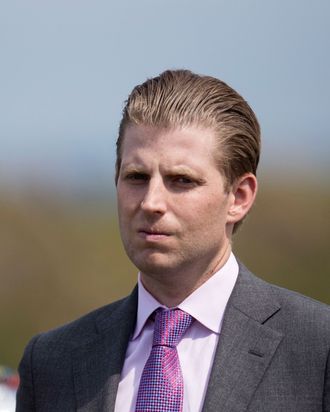 Eric Trump.
Photo: OLI SCARFF/AFP/Getty Images
As we reckon with the reality that Donald Trump will be the next president of the United States, the nation's teens have mobilized as well — by roasting Trump's offspring in public.

Last Thursday night, middle Trump-son Eric, 32, was out in New York City after leaving Quality Italian on 57th Street with wife Lara Yunaska when they reportedly ran into a gaggle of teens who recognized Trump and proceeded to heckle him.

Per "Page Six:"
As they crossed Sixth Avenue a group of about eight teens yelled, "Eric — f**k your father!"

A more magnanimous heckler shouted, "Love Trumps Hate!"

Eric briefly turned to face them, but then moved on swiftly.
He then presumably muttered "I'm rubber and you're glue, whatever bounces off me sticks to you" under his breath.