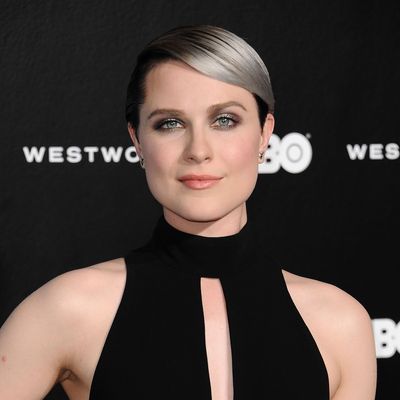 Evan Rachel Wood.
Photo: Jason LaVeris/FilmMagic
Evan Rachel Wood opened up about being the survivor of sexual assault in a new interview with Rolling Stone. Inspired to speak out the day after Donald Trump won the presidential election, Wood revealed that she had been raped twice and no longer wanted to stay silent.
The actress initially told writer Alex Morris in an interview that she had experienced "physical, psychological, sexual" abuse in the past, but wouldn't go into any specifics. However, the day after the presidential election, she wrote Morris an email revealing that she had actually been raped — once by a person she was in a relationship with, and another time by the owner of a bar:
"Yes, I've been raped. By a significant other while we were together. And on a separate occasion, by the owner of a bar … I don't believe we live in a time where people can stay silent any longer. Not given the state our world is in with its blatant bigotry and sexism."
Wood is merely one of countless women who have been moved to speak out about their own harrowing experiences with assault after Donald Trump, a man who was famously accused by numerous women of sexual assault, won the presidency. In the weeks leading up to the election, calls to rape-crisis hotlines increased, and thousands of women took to social media to tell their own stories of surviving assault.