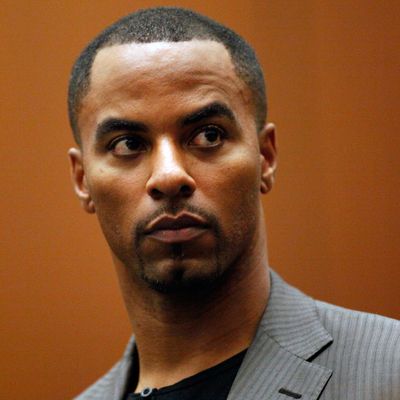 Darren Sharper.
Photo: Pool/Getty Images
Former NFL player Darren Sharper was sentenced to 20 years in prison on Tuesday for drugging and raping two women in Los Angeles. The sentencing was part of a plea deal reached last year as a "global resolution" to resolve several assault cases filed against Sharper across the country, the Los Angeles Times reports.
Sharper played for the NFL for 14 years, with the Minnesota Vikings, the Green Bay Packers, and the New Orleans Saints, which he helped secure a Super Bowl championship in 2011. After retiring, he continued to work with the NFL as a network analyst, until women started to accuse him of sexual assault.
He was arrested on suspicion of sexual assault in January 2014 in Los Angeles, after which women in other cities began to come forward to accuse him of similar attacks. Sharper also pleaded guilty or "no contest" to rape and attempted rape charges involving nine women in Arizona, California, and Nevada, Reuters reports. Additionally, in August, he was sentenced to more than 18 years in New Orleans for drugging three women with the intention of raping them. All of the prison sentences will be served at the same time, according to the Times.
One of the victims said in the Los Angeles courtroom, "I can only imagine myself lying there like a vegetable while he took advantage of my body without my permission. I have lost every bit of self-confidence I've ever had and am always in fear while alone. It doesn't matter whether it's day or night, I can see a guy and automatically in my head think, 'What if this guy tries to rape me?'"
During the sentencing, Superior Court Judge Michael E. Pastor referenced the statement, as well as another one made by a different victim."I dare say that I cannot speak more eloquently or passionately about the horrible misconduct of Mr. Sharper and the unfathomable effect he has had on the two alleged victims," the judge said.