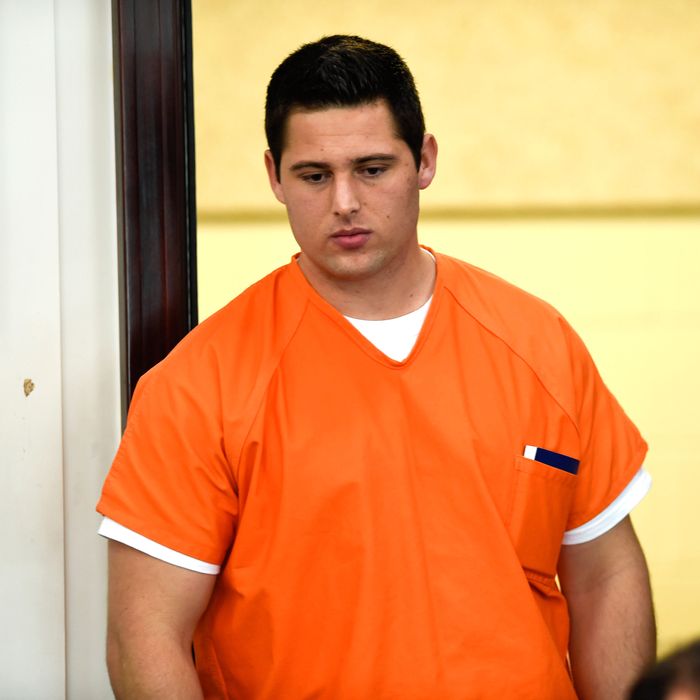 Brandon Vandenburg.
Photo: George Walker IV/AP
Former Vanderbilt football player Brandon Vandenburg was sentenced on Friday to 17 years in prison for orchestrating and recording the horrifying 2013 gang-rape of his unconscious then-girlfriend, and then sending the video to friends. In June, Vandenburg had been found guilty of five counts of aggravated rape, two counts of aggravated sexual assault and battery, and unlawful photography.
The assault occurred in the summer of 2013, with surveillance video showing Vandenburg and several other football players carrying the unconscious neuroscience student into a dorm. The players were seen in the video giggling and laughing, dragging the woman's body down the hallway and taking photos of her while she was naked. Inside the dorm room, one of the men penetrated her with a water bottle, and another urinated on her. Vandenburg then passed out condoms and encouraged the players to assault her.
The assault survivor was not in attendance during the sentencing, which took place at the Justice A.A. Birch Courthouse in Nashville, the Tennessean reports. The woman had already graduated and moved out of state to continue her education. However, Assistant District Attorney General Jan Norman read a statement on the victim's behalf:
"Please do not use my absence as an excuse for leniency, as it in no way diminishes the profound and insidious impact of Mr. Vandenburg on me and my life. I still ask that he receive the full sentence allowed under the law for orchestrating the sustained 30-minute gang rape against me, a defenseless woman who trusted him. The minimum sentence is not enough for what this man did to me."
Vandenburg and his teammate Corey Batey were originally found guilty of aggravated rape in January 2015, though the verdict was thrown out in June 2015 because a juror hadn't disclosed that he was the victim of statutory rape. Batey was found guilty in a retrial in April.