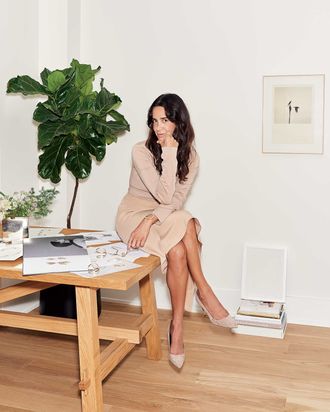 Ana Khouri
Photo: Kyle Dorosz
"The shopping process for my rings is as simple as possible. You go to the Barneys counter, buy what's ready in the store, or mix and match the stones and settings to your liking, and it's ready in about a week."
Ana Khouri, founder and creative director at Ana Khouri

After 14 years of designing fine jewelry, why the new foray this year into engagement rings?
If you were to gather 20 women in a room and ask them all to put their engagement rings in a bowl, it would be impossible for them to tell whose ring is whose. The idea of the uniform really bothers me. Then again, even if you do want to veer away from the standard diamond ring, it can be hard to do so if you don't like vintage and don't have tens of thousands of dollars
to spend. I wanted to make a collection of totally new and thoughtful engagement rings that were accessible to a lot of people. We debuted in April with three styles at Barneys that cost between $2,000 and $4,000. We still keep quality front and center: The gold is all fair trade and the stones are conflict-free and sourced from my longtime dealers in Texas, but they're small — about a quarter-carat each. The nontraditional designs are the focal point, which I find much more interesting than a really large rock.
What's "nontraditional" about your rings?
Each features an 18-karat yellow-gold band, but there's a twist: One ring has a quarter-carat white diamond on the exterior of the band. Another band is an incomplete gold circle with an emerald in a bezel setting. We also offer a yellow diamond in a three-prong claw setting.
I also make custom engagement rings and did an oval-shape diamond for a recent customer. The quality and shape of the stone were so distinct that the band itself didn't require a lot of adornment. After showing several sketches of the diamond in white gold, yellow gold, and finally white gold with pavé, we decided on a four-prong setting and a simple micro-pavé band. It's one of the most beautiful rings I've ever designed because the quality of the stone truly comes through.
What are the pros and cons of going custom?
The benefit, of course, is that you have a one-of-a-kind piece that's made exactly how you envision it. The cons are that custom work is more expensive and takes a lot of time, sometimes as long as a year. If you're planning to propose to someone at the end of the summer, you can't approach a designer in the middle of June. I've seen things go very wrong when a budget is not set up front. I never want a client thinking he'll spend x amount and end up spending so much more because the bride has changed her mind about the setting or the shape of her diamond. Another issue is when customers come to me with a picture of a ring they want — I won't copy other people's designs, so I don't work off pictures.
Thoughts on the man band?
Don't go too wide — about 5 millimeters thick is usually just right.
Anakhouri.com; available at Barneys
"Remember that even when buying predesigned rings, you can ask for customizations. If you like one of my settings but prefer a sapphire to a diamond, I'm open to swapping materials and stones."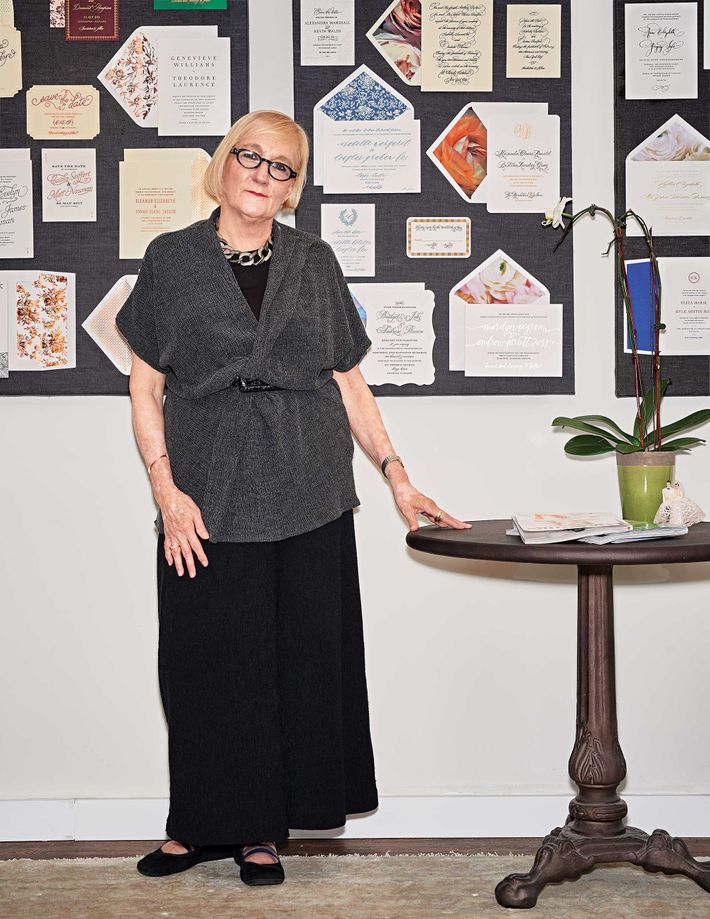 "I'm the etiquette police. I make sure the invitations are beautiful and reflect the couple, but I'm also very involved in choosing the text. It sets the tone for the event."
Linda Hays, store manager at Bella Figura
What are the benefits of a physical space over your previously online-only presence?
We're looking at this first flagship, which we opened last October, as a test kitchen. We just started offering engraving, and we have an amazing hand calligrapher, Ted Clausen, who is going to be exclusive to this store. He has quite a different hand; his letters have long swooping tails. We also just started working with artists who make watercolors that can be licensed to print on the back of invitations. We're trying to figure out, is there a market for this? What do people think?
How is the selection experience different?
Online you can change the fonts and colors, and if you think an invite has too many flowers, we can even take some off, at no additional charge, but beyond that you're relatively limited with customization. In the store, everything is customizable. You can work with one of our house designers to create something from scratch for $100 an hour.
What's the biggest mistake people make when buying invitations?
Not ordering enough. We suggest you have between 20 and 25 more than you anticipate sending because things happen.
Anything to prepare before meeting you?
If you've done a Pinterest board, it's always great to share that. If you have wedding colors, it's good to bring those. Online we have more than 350 options and in the store we have even more, so these little preparations help narrow things down. If you don't come with anything, we'll start by going through our best sellers and flagging attractive styles — like the Deveril is our longest-running best seller; it's a mix of script and block lettering. That one's strictly text. Then there's the newer Sweet Christine with a debossed honeycomb pattern that's become popular too. From there I'll see what you like and pick out different books that match your font and color choices.
Thoughts on evites?
I was actually just at another wedding talking to the mother of the bride, who told me she received an online invitation for a black-tie affair and found it distasteful. That's the risk you take with evites. What's perfectly acceptable, though, is e-response cards. You send your invitation in the mail and have your guests send their RSVP to a website address. Two years ago maybe one percent of our clients did it that way; now it's at least 15 percent.
1031 Lexington Ave. 646-257-4788; bellafigura.com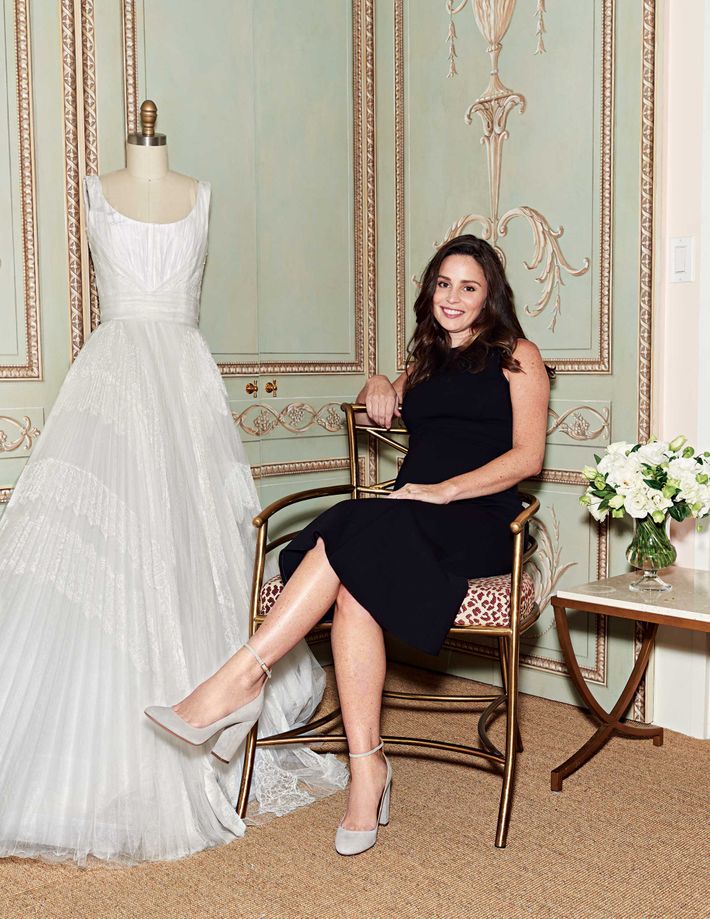 "What we eliminate is the overwhelming feeling of hundreds of dresses and gaggles of relatives in the showroom. We cater to the brides who don't have the energy for that."

Elizabeth Leventhal, general merchandising manager at Ready to Wear, Moda Operandi
How does Moda Operandi bring the bridal-salon experience online?
The customer goes on to modaoperandi.com, browses our selection of 20 wedding designers, and either picks the gown they want or works with our customer-service department over the phone or online chat to fine-tune their selection. Once the bride lands on a dress, we can either ship it to her to try on at home, or she can visit one of our stylists in New York, Los Angeles, or London. When she finalizes her choice, we offer a complimentary styling service — which can be done over the phone, email, even Skype or FaceTime — to advise her on all the accessorizing and any other style questions she has for the big day. We'll even send her a full list of suggestions for the honeymoon. Sometimes connecting over text or email is difficult, and there can be a lot of back and forth, so our stylists use Skype or FaceTime to see the pieces on, often right before the event. We offer a digital nod of approval or a "swap this necklace for a pair of earrings" tip,
at no extra cost.
How do fittings work when you purchase a dress online?
For gown fittings, we have a tailor on-site at our salons, or our stylists can recommend tailors for locations elsewhere. Appointments for in-salon alterations can be booked online a month in advance, and stylists will arrange in-home appointments upon request, priced on a case-by-case basis. We always consult with our designers before making a tailor suggestion, but Esin Kirmidizag, at Sew Elegant Bridal, is our go-to person in New York for alterations.
Who are some of your favorite bridal designers featured on the site?
Christos Costarellos's gowns (from $3,500), because of their exceptional detailing. One design has a sequined bodice that adds just the right amount of glamour. Romona Keveza creates super-glamorous, dreamlike gowns (from $3,000). Mira Zwillinger has an ethereal approach to traditional gown shapes—I love this two-piece gown and peplum overskirt she does with hand-cut flower appliqués ($8,400). Many of our designers will also make one-of-a-kind, custom gowns for brides, and our stylists will arrange all the details — but those can cost around $60,000.
What are some of your favorite winter-bride accessories?
I love a classic fur stole paired with a silk dress — the textures next to each other are so beautiful. We carry a white-mink cropped jacket by Lilly e Violetta ($4,000). Another great accessory is this white-raffia headband by Gigi Burris ($250), which is very Swan Lake. One word of caution when getting married in the winter, though: There's a good chance you'll be trekking through bad weather or near a fireplace, so avoid long trains.

By appointment at 24 E. 64th St.; 212-229-2075; moda­operandi.com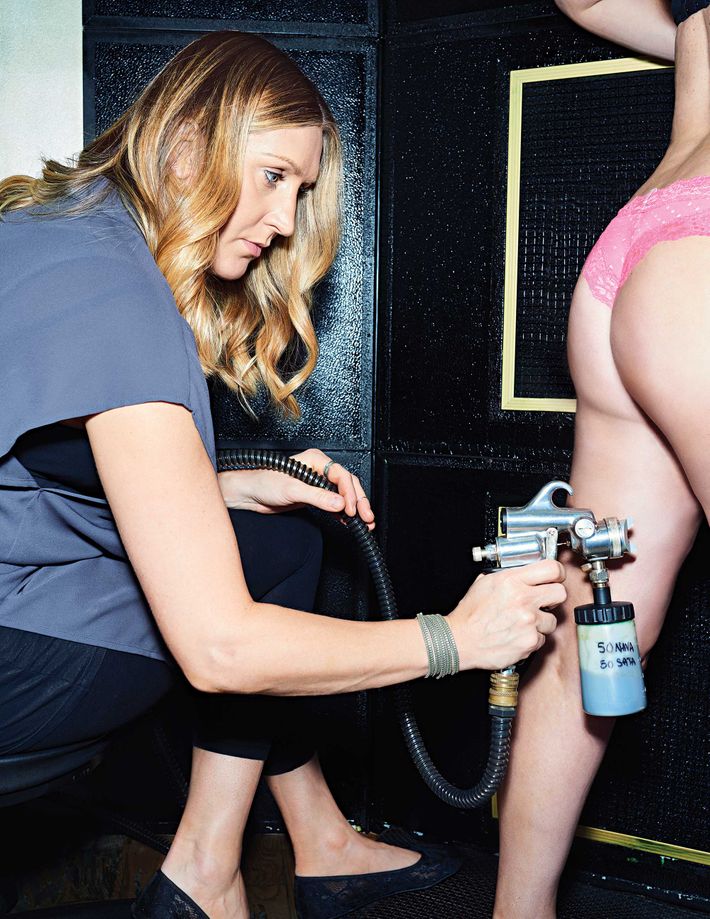 "I want my tans to be so realistic that people go, 'That's a spray tan? Are you kidding me?' "
Anna Stankiewicz, spray tanner at Louise O'Connor Salon
Is tanning a bride similar to tanning, say, Leonardo DiCaprio, as you did for The Wolf of Wall Street?
Yes, I give the same OCD treatment to all my clients. It's all about the details: using barrier cream to prevent Cheez Doodle hands (that's what happens when the tan lies on top and doesn't absorb); going a little lighter in the wrists, knees, and elbows; not forgetting about behind the ears or under the chin; cleaning each fingernail with a Q-tip.
Should people who don't want to be noticeably tan still consider spray tanning before a wedding?
Yes. It's a big misconception that people think you have to go dark. It's not about being dark; it's about getting the glow. I've never had a bride in New York who has asked to be super-tan, like they just got back from Jamaica. They all ask for a glow. I have a light formula that I do on brides. A lot of times people ask, "Did you get a facial?" People don't know what it is. For a winter wedding, people tend to go a little lighter. For a destination wedding, they will get a little more color but still keep it on the natural side. They don't want to look like they've been out in the sun too much longer than the person they're marrying.
How should a bride prep prior to a spray?
Do your spray tan two days before the wedding. That's the perfect amount of time for it to set so that it won't rub off on your white dress, not even with sweat. Just remember to get all your waxing and manicure-pedicures done beforehand. Also, before your tan, exfoliate with a non-oil-based exfoliator. The oil leaves a residue on the skin so the tan doesn't go on evenly, and then it might last only two days, as opposed to the full five to seven days.
How can people make sure to avoid a Ross Geller – like tanning disaster?
Do a trial! Like before the bridal shower, I start with a lighter shade and mix and customize the formula until it's the exact shade you want, then I'll be ready with that color for the big day (from $88). I'll mix a formula to have you achieve a color within your skin tone. It's like creating custom foundation — it's something I'm kind of known for.
If you still end up orange, what can you do?
You have four hours to shower. Sometimes you're stuck with it. But usually, the more you shower, the more it will come off. If there's just one particular area that's streaky or too dark, like your elbows, Mr. Clean Magic Eraser works well for spot treatment. On the flip side, tanning can even out any parts of your skin tone that need evening out. It can hide varicose veins and cellulite. If you come back from your bachelorette party with bathing-suit lines, we can hide those, too. We'll just have to wait until you're not red — because red is not a spray-tan color.

33 E. 61st St., third fl. 212-935-6261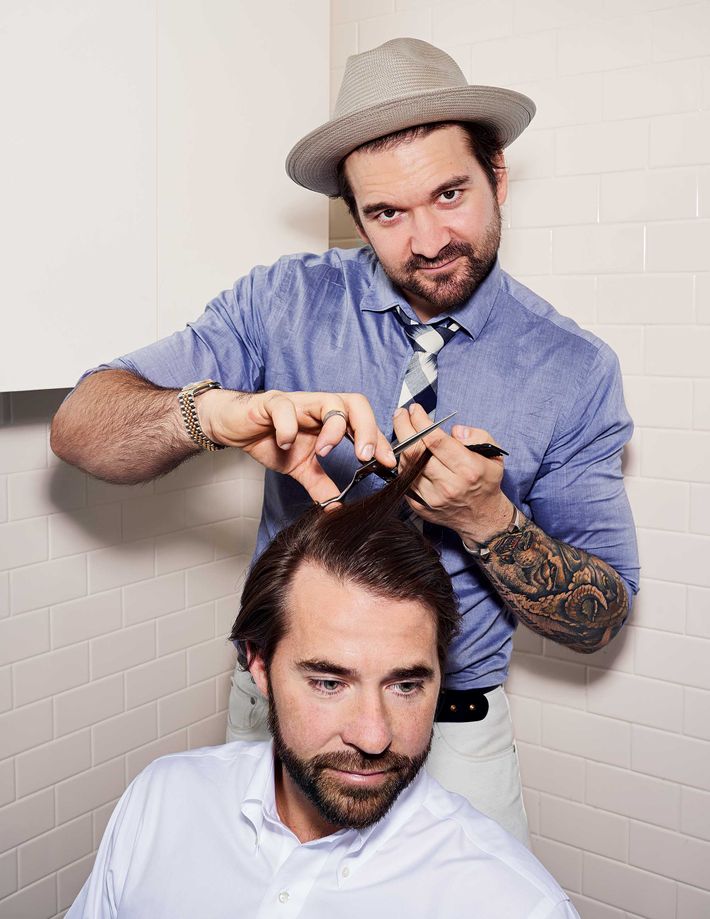 "Men often think they need to change up their grooming routine for the day of their wedding, but the only time you should fuss a little is a couple of weeks before the actual day."
Matt Fugate, hairstylist at Serge Normant at John Frieda
How can a groom ensure a good hair day on his wedding day?
One to two weeks before, he should get a good haircut. Once, I was with a bride for her wedding trial and she asked me to speak to her soon-to-be husband. Apparently he always did this dorky spike with his hair, and her one plea was to make him look better. I told her he should book an appointment in advance with a stylist to get the haircut thinned out, but not shortened, using thinning scissors to allow his hair to neatly lie down — and to avoid looking like a freshly cut puppy on the day of the wedding. Also, take this time beforehand to blend grays. I did this for my brother-in-law when my sister asked me to help with his gray-hair situation. It will fade slightly before the wedding to avoid the dreaded, stark "Just for Men" line of demarcation as new grays grow in. On the actual wedding day, he only needs to shave the neck and clean up the sideburns.
What should he have in his grooming kit the day of his wedding?
A man should use his normal razor kit for his face, a nape razor for his neck and sideburns, nose-hair trimmers, a brush, and some cream or pomade that won't flake. A cream or pomade that doesn't flake is essential.
It's the era of man buns. What's a style for a man with long hair?
If you can wear it down, do it. Consider getting a blowout. If it is just mid-length to slightly longer, condition with a great conditioner like Kérastase Densifique Fondant Densité and put a leave-in cream like Nutritive Crème Magistrale when the hair is wet. Let the hair air-dry, then touch up with a little more cream when dry.
Any other general grooming advice?
A bit of makeup is okay on your wedding day. If you had too much to drink the night before and you're a little red, a little concealer helps. Although one time I had a groom who went to a strip club the night before his wedding. He and his twin brother got into a fight and beat up all the bouncers at the club. He showed up to his wedding with a big black eye. His wife contemplated putting makeup on him, but I thought it really fit with his personality. I told him it would be badass to see that in your wedding pictures looking back in 20 years. So in the end, he got married with a big shiner on his face.

336 W. 23rd St.; 212-879-1000
"Spray on dry shampoo that morning in anticipation that you'll start sweating as the day goes on."
*This article appears in the Winter 2017 issue of New York Weddings.