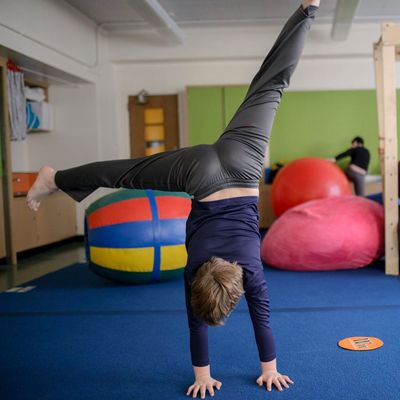 Cartwheels at Extreme Kids & Crew.
Photo: Filip Wolak/Courtesy of Facebook/Extreme Kids & Crew
Eliza Factor's son, Felix, was born with multiple disabilities — autism and cerebral palsy among them. A few years ago, Factor told the Cut, Felix was going through some really hard times — becoming more difficult and irritable than normal — and she felt hopeless about how to help him. There were so few programs and services near her home in Brooklyn where her disabled son could feel comfortable and get the attention he needed, and when she did find them, they were often overwhelmingly pricey.
Factor knew firsthand that the parents of kids with disabilities are often overworked, stretched thin, and in constant need of better services. So instead of sitting on her hands, she decided to channel her excess frustration into building a place for kids and parents herself. "I knew that at that time, if I was struggling to help my son, I could still try to help other kids," she said. After seeing how challenging it was for Felix to feel comfortable in the preexisting spaces that "neurotypical" kids were given access to, she built a play space where disabled kids could feel free to be themselves. And, more important — she made most of the programming completely free.
In 2011, Factor opened the first Extreme Kids & Crew space in Red Hook, Brooklyn, a place where kids with disabilities and their families could just be, play, and not worry about the world around them. The space holds "Cocktails and Bureaucracy" meetings for families to take a load off, and open play on the weekends for kids with disabilities to jump around and be themselves. Since the opening of the Brooklyn space, a second space has opened in Queens, and Factor says she hopes to have an Extreme Kids & Crew in every borough over the next few years.
Why is it so necessary for places like Extreme Kids & Crew to exist for kids with disabilities?
Some of these kids have such difficult lives outside of school that this is the two hours where they're celebrated and helped and accepted. There's nothing better than being on the floor of the space with these kids, or seeing some kid who has never been to a friendly space outside of their home realize that this place is for them. Mothers would come in there and start crying because they're wound so tight all the time. It is an incredibly moving place to be in. When you have a beautiful spot to go to that the other kids don't get to go to, you're honoring these kids instead of humiliating them by making them do their special-needs work in the hallway of their schools. On top of that, the equipment is just really fun and it makes therapy a lot easier because it's actually enjoyable.
On top of that, most playgrounds are not physically accessible and can be stressful socially for parents, as well as kids with disabilities. Even when everything goes well, and there's no meltdown or nasty eyes, it's tiring. As one of my friends put it: "Sometimes you get tired of educating the world about autism." So we're all for inclusion, but we also need times and places where we can take a break, recoup, not alone in one's solitude, but with others who get it.
Why do you try to keep the programs free or pay-what-you-can?
Certain schools get money for IEP (which stands for individualized education program), but once that money gets into the budget, it doesn't necessarily go to kids with disabilities. This is a way for kids to get what they're promised. There just isn't enough money in the schools, and it's a huge bureaucratic disaster. They're trying their best, obviously, but the kids with disabilities very often get screwed. We love it when people pay, especially if they can, but we want the space to remain as accessible as possible.
I'm very interested in the low-level oppression of bureaucracy and how it hurts people. And most people who have kids with disabilities are so enmeshed in it that if the least we can do is cut out of some of that paperwork, that's what we'll do. All that paperwork and those applications are demeaning and they create barriers to entry. My son had this great swimming program and it was so beautiful because he can't move on land very well at all but in the water, he's free. But it was $70 a session and it was just like, are you kidding me? Who can afford $70 a session?
What has been or will be the biggest challenge for the business?I'm really worried about what's going to happen under Trump. This election is so dangerous for people with disabilities on two levels. First, funding is going to be cut. It just always is. There is just not enough funding for disability programs as it is. People with disabilities are the poorest people in the country. They make up the majority of the prison population. They make up the majority of the housing shelters. We need what little funding we do get.
Second, it's important that people with disabilities not be left out of the diversity conversations that we've been having. There is a disability movement that people don't think about. When they think about diversity they think about race, they think about sexual identity, they don't think about neurodiversity. Part of my job is about addressing what we need to do to make people understand.
What is the next thing to tackle for Extreme Kids & Crew?
We really want to see a play space in each borough. We have one in Brooklyn, and we have one in Queens. In the Bronx, there is an incredible need for something like this. There are hardly any services there. We're not going to tackle anything in 2017 because we're just at our limit right now, but we are trying to open a play space in the five boroughs over the next three to five years. I'm also going to continue talking to non-disabled classes about how basically we're all the same, it's just that we act and look differently.

How would you advise someone who is interested in starting their own nonprofit?
All you have to do is have people over for a brainstorm, get people involved, and see where it goes. It's wonderful to give money, but it's also good to see what's going on already. It's always good to visit organizations that are already doing what you want to be doing. You'll get ideas, you have to become friends with these people, you have to work together. It's not an ego thing. It's about getting out of your house and getting off of your computer.