Fashion's Ever-Multiplying Collaborations Have Benefits for Almost Everybody
Last summer, in a haute couture collection shown at Galeries Lafayette, Vetements, the design collective headed by Demna Gvasalia, included the work of 18 other companies. The motivation, Gvasalia explained, was authenticity. He could never improve on the iconic designs he wanted to integrate into the collection, so why go through the effort of coming up short with a knockoff? Designer jeans never look as cool as Levi's, he said, ditto Schott leather jackets, ditto the luxe-trashy velour of a Juicy tracksuit. It was, in the end, a pretty valid reflection of the way stylish people actually dress: The perfect Valentino sweater is no longer necessarily worn with the perfect Valentino skirt but with jeans (maybe from Levi's, maybe from Frame, just definitely not from Valentino) and a Chloé peacoat and limited-edition Adidas and on and on. Everything we wear is pastiche, a complicated, multi-octave layering of identities and connotations where the designer is tasked with making great items and then the wearer is responsible for curating, editing, and matching it all up. Sophistication is not about purchasing a total look by anyone (even Gucci!) but rather about pulling the right pieces from here, there, your grandmother, the Gap.
And so designers are getting in on it, saying good-bye to top-down, totalitarian design ideals and that studio-system idea of dressing. The result? A golden age of collaborations: There are Gigi Hadid–branded hoodies at Tommy Hilfiger and Christian Dior sneakers designed by Kids director Larry Clark. The spiky-jewelry designer Eddie Borgo is doing a capsule collection for Tiffany & Co., and Nike did a special shoe for Comme des Garçons. That one's called the VaporMax, and it "combines designer Rei Kawakubo's idiosyncratic modernism with Nike's pinnacle expression of Air." Rag & Bone are summoning '80s rich-boy nostalgia making sunglasses with Vuarnet, while Mariah Carey has a new lipstick for M.A.C. Gia Coppola added stripes to Everlane T-shirts. J.Lo is working on shoes with Giuseppe Zanotti. At Bergdorf Goodman, one can find an all-black, very chic version of the Armani Le Sac bag that was customized by Linda Fargo, that store's fashion director and a street-style star. Levi's is working with Virgil Abloh, who designs the label Off-White and works for Kanye West (who of course makes his Yeezys in partnership with Adidas), and later this month, Dior will reveal versions of its Lady Dior handbag that were designed in collaboration with seven artists. Marc Jacobs designed a sweatshirt (among other things) for MTV, Kenzo is the latest designer to join forces with H&M, and soon Alex Katz's artwork will figure in some H&M designs, too. Cos, the Swedish design chain, worked with the Agnes Martin estate to make pieces inspired by the artist's soothing grid, in her color palette of restraint. It's like checking out the Pinterest board of someone whose taste you admire, gathering endorsements from sources you trust, and a validation of the power that the small(er) guy has in all of this and of just how important it can be for the larger entity to co-opt even a bit of it.
If the Vetements show represented some sort of postmodernist, mash-up culture ideal, the origin point can arguably be 2001, when Marc Jacobs was relatively new at Louis Vuitton and needed to do something radical to get the old French leather-goods house away from its matronly connotations. His solution was to hire New York graffiti artist Stephen Sprouse to spray-paint the monogram on the embossed brown leather. This was a clear transaction: money and visibility for Sprouse, street cred for Louis Vuitton. (Street cred for Louis Vuitton? Who knew such a thing was even possible?)
It worked (sales of those handbags made zillions, and they're still available for massive markups on resale sites), and the collaborations came fast and furious. Target was an early adopter: Its "Go" program made the work of little-known, small designers available to a mass audience at a low price (Thakoon and Rodarte were participants) while offering enormous exposure to the designers. Rodarte was able to make video ads with Tavi Gevinson to support its Target collection. H&M got in on the game in reverse: More established figures like Karl Lagerfeld, Isabel Marant, and even Comme des Garçons designed affordable collections for the Swedish juggernaut. They sold out within hours and created huge lines, which meant that these designers were able to emerge from their expensive, rarefied universes for long enough to gather up a bunch of new fans who'd be that much more open to buying lipsticks, shoes, and handbags. Uniqlo offered a home to Jil Sander when she lost her name, and Topshop gave Kate Moss credibility as a designer when she began wondering what she'd do when her modeling career slowed down. And Uniqlo solidified its reputation as the mass-market minimalist, and Topshop got the unicorn dust that only Moss knows how to spread. She's doing something similar for Equipment, the French shirt company, right now.
Sometimes it's all a little more ­straight- forward — a merger of equals when it comes to good taste. Take Superstitious, a perfume that will be released by Editions du Parfum Frederic Malle in March. That project was a collaboration between Alber Elbaz and his old friend Malle (with the help of super-nose Dominique Ropion). Like with Dries Van Noten, who recently did a special-­edition perfume for Malle, it's all much of a muchness, hard to say who is gaining what: Each of these men works with a similar vocabulary and, presumably, a familiar-to-each-other fan base.
Of course, like everything in fashion, it's ultimately a commercial move. Take the grand finale of Alexander Wang's exceptionally strong spring show back in September. It kicked off with a grainy black-and-white video that evoked a skater or graffiti gang up to something mischievous at night: There were trucks, and boxes "falling off" those trucks, in an industrial riverside zone. The film cut repeatedly to images of legal letters with copyright ­infringement written all over them. When the lights came back on, an army of models appeared in a variety of sweatsuits bearing the Adidas logo upside down. "Aha!" I thought. "Alex Wang has something to say about all of this big corporate money in fashion, about this practice of collaboration!" I was wrong: It's just his collaboration with Adidas. It will be available next month at alexanderwang.com.
Coming Soon: Nine New Collabs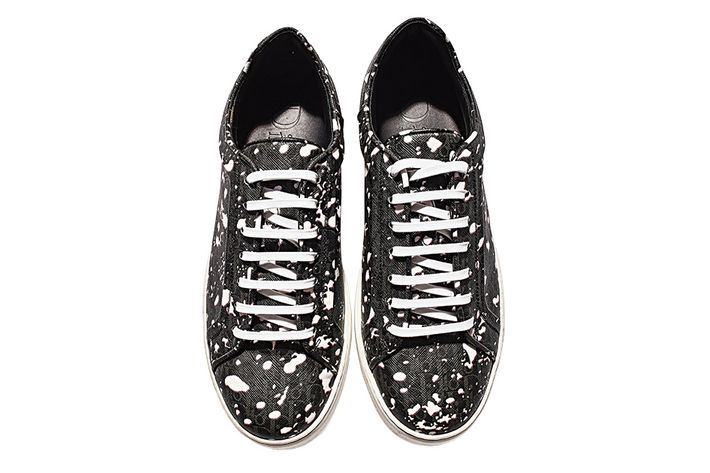 Larry Clark + Dior Homme (Available Nov. 18)
The photographer and Kids director does a high-fashion sneaker collaboration for men.
Coated canvas sneaker, $890 at 133 Green St.; 212-421-6009.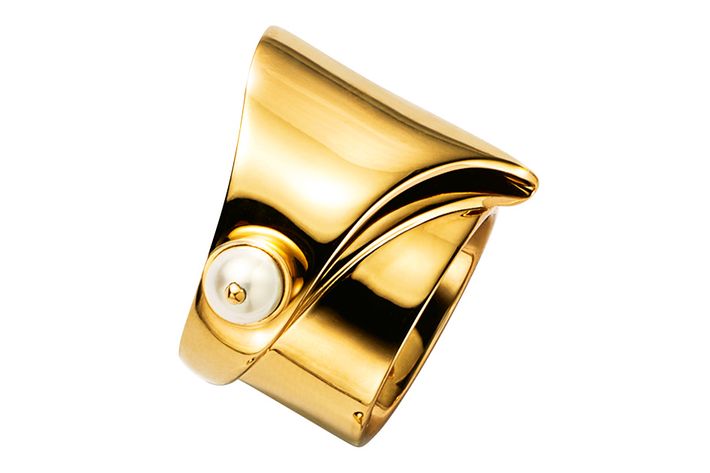 TIFFANY & CO. + EDDIE BORGO (available now)
Downtown meets uptown jewelry design with a seven-piece collection in gold and pearls.
Ring, $3,250 at Tiffany & Co., 727 Fifth Ave.; 212-755-8000.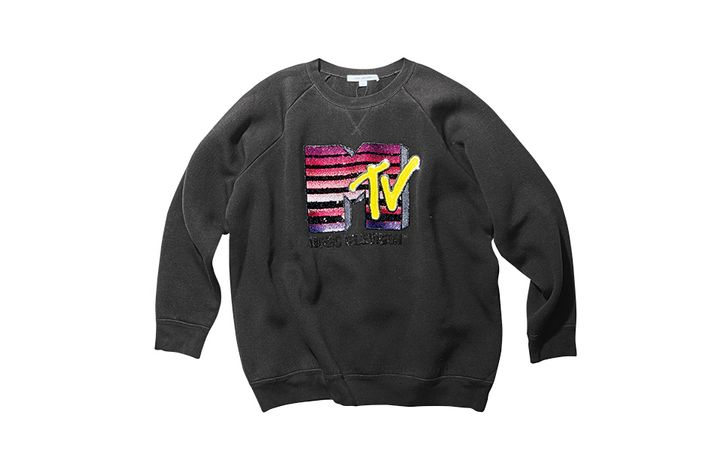 MARC JACOBS + MTV (available Dec. 15)
Limited run of embellished sweatshirts sold at select Marc Jacobs stores and Dover Street Market New York.
Sweatshirt, $1,400 at 160 Lexington Ave.; 646-837-7750.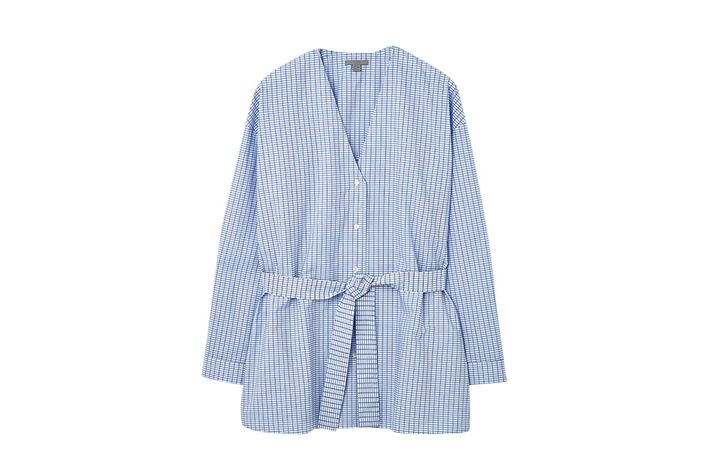 COS + AGNES MARTIN (available now)
A minimal collection coinciding with the artist's Guggenheim retrospective.
Checked shirt, $115 at cosstores.com.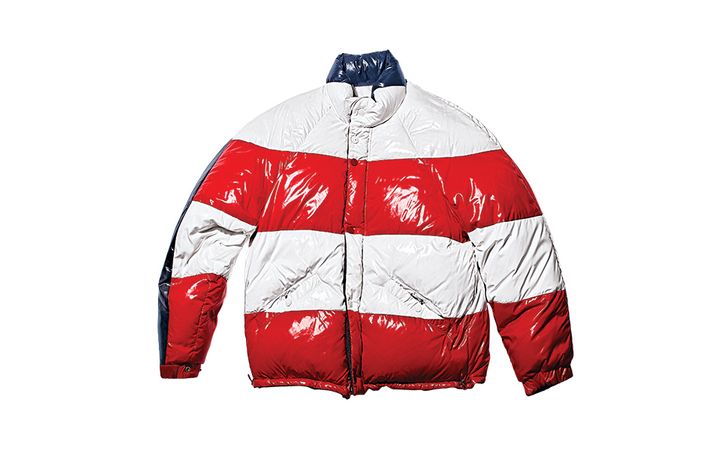 MONCLER + THOM BROWNE (available Nov. 16)
An homage to the American flag.
Nylon-wool puffer jacket, $2,815 for similar styles at 650 Madison Ave.; 646-768-7022; also at moncler.com.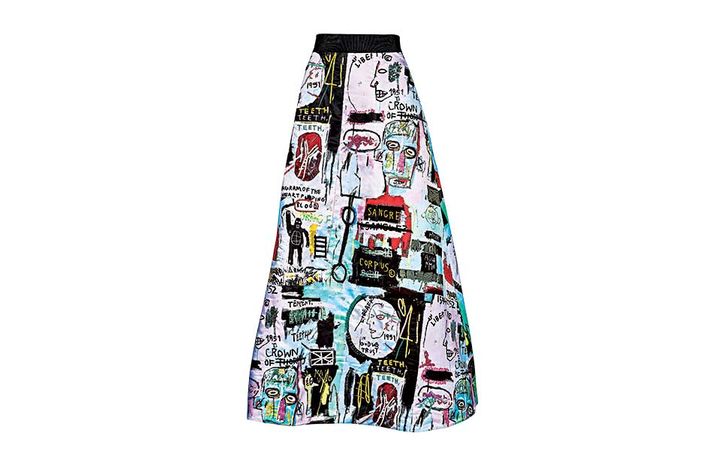 BASQUIAT + ALICE and OLIVIA (available now)
Basquiat's art on a collection to help support CFDA's young-talent initiative.
Skirt, $1,295 at aliceandolivia.com.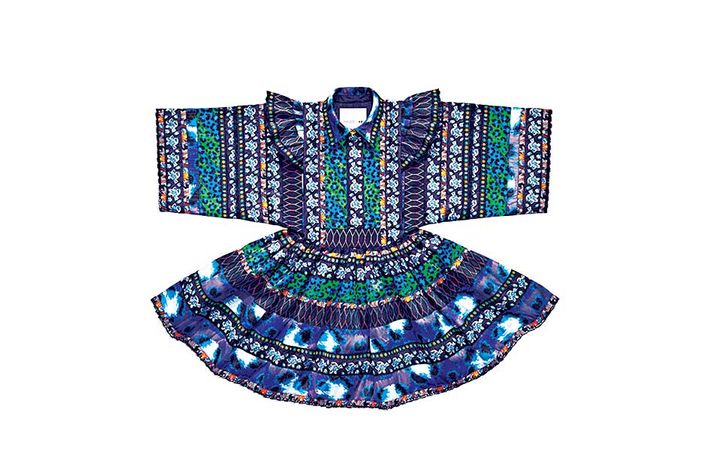 KENZO + H&M (available now)
Eccentric street-inspired collaboration between the Swedish brand and the French fashion house.
Patterned ruffle dress in polyester, $299 (sold out) at hm.com.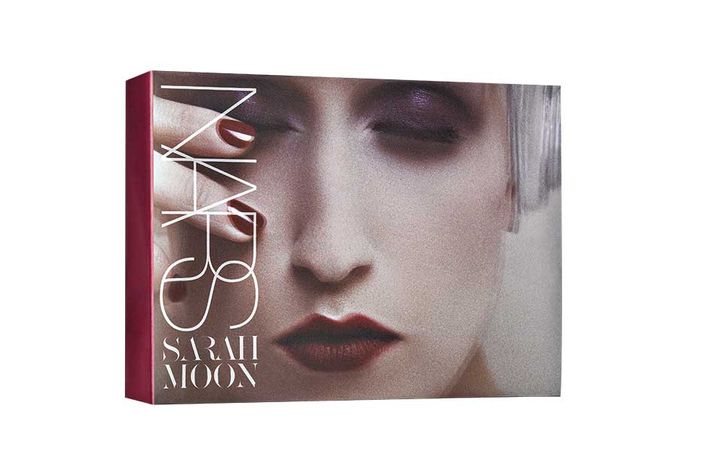 NARS + SARAH MOON (available now)
Cult French photographer teams up with cosmetics brand.
Velvet lip-glide kit, $45 at sephora.com.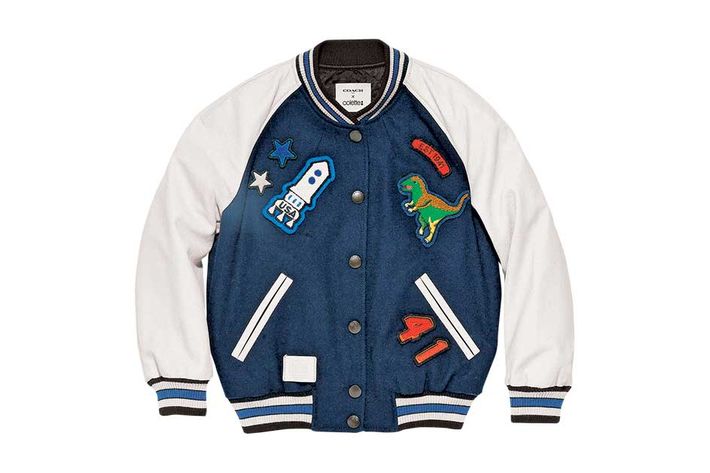 COACH + COLETTE (available now)
Unisex children's clothing designed with Parisian concept store.
Varsity jacket, $200 at coach.com.
*This article appears in the November 14, 2016, issue of New York Magazine.