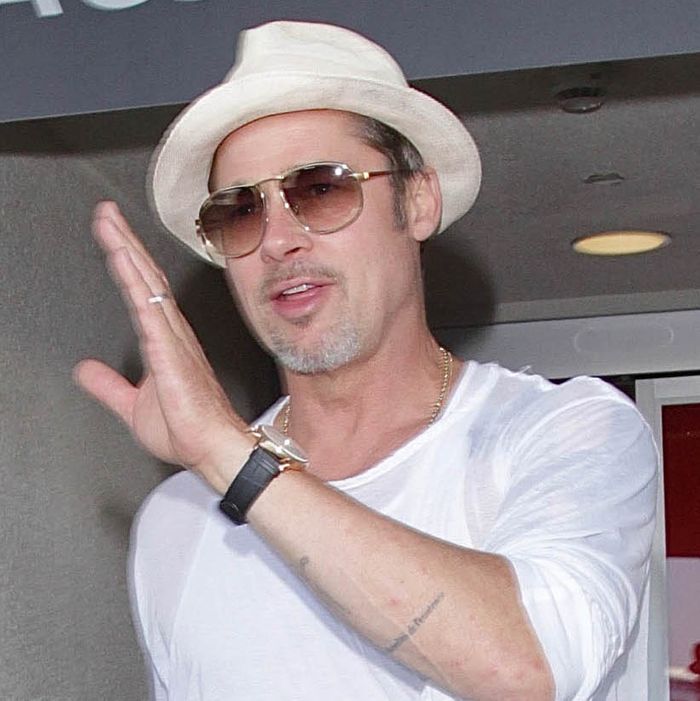 Brad Pitt.
Photo: SMXRF/Star Max/GC Images
The FBI closed its investigation into allegations of child abuse involving Brad Pitt. No charges were filed after the agency looked into the allegations stemming from an incident involving his eldest son, Maddox. Because the incident reportedly occurred on the family's private plane, the FBI became involved. Pitt was also previously cleared of any wrongdoing last month by the Los Angeles County Department of Children and Family Services when it looked into the matter.
"In response to allegations made following a flight within the special aircraft jurisdiction of the United States, which landed in Los Angeles carrying Mr. Brad Pitt and his children, the FBI has conducted a review of the circumstances and will not pursue further investigation," the agency said, according to BuzzFeed. "No charges have been filed in this matter."
Pitt's camp has maintained his innocence throughout the ordeal, which allegedly began when he and Maddox, 15, got into some form of altercation and he "made some contact." Whatever happened, though, was apparently enough to cause a major rupture between Pitt and Angelina Jolie, who filed for divorce the following day. They've since been battling it out with counter-stories in the press and have yet to settle on a custody agreement. A rep for Jolie recently released a statement saying the two sides agreed that she retain custody of their six children and that Pitt agreed to supervised visits. Pitt's reps, however, have not publicly spoken in response to or confirmed the supposed custody agreement, though "sources" have called the whole thing BS.