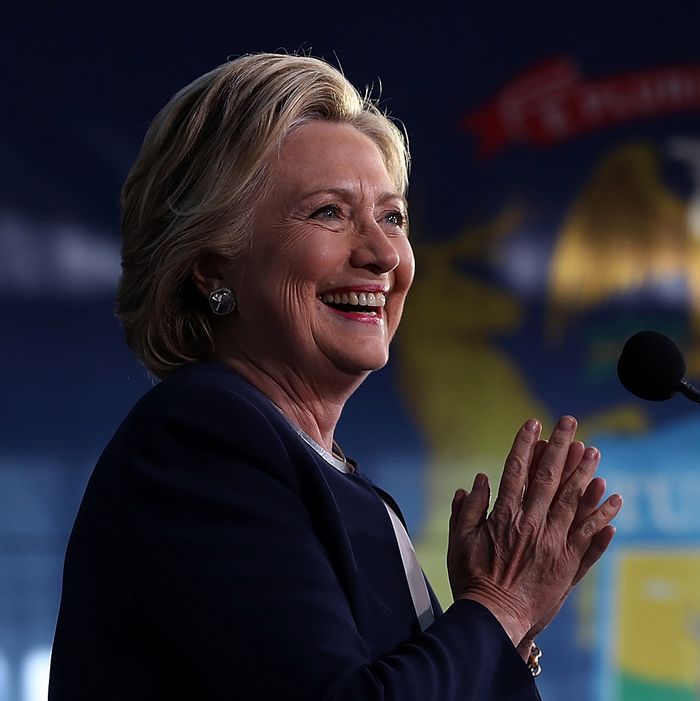 Photo: Justin Sullivan/Getty Images
FBI director James Comey has once again cleared Hillary Clinton and her aides of criminal wrongdoing regarding her use of a private email server while serving as secretary of State, following the review of a trove of newly-discovered emails from an unrelated investigation that seemed as though they may be pertinent to the case. As it turns out, even if they were, they provided nothing new to change Comey and the FBI's original conclusion that there was no evidence of intentional mishandling of classified information by Clinton or her aides, and thus no basis for charges to be filed.
Comey, of course, attracted a maelstrom of bipartisan criticism for his unprecedented decision to announce the discovery of the new emails within two weeks of Election Day in a vaguely worded letter to members of Congress on October 28, which was immediately leaked to the press. Comey's disclosure violated Justice Department policy and threatened to upend an already tightening presidential race between Clinton and Donald Trump. Comey's conclusion, eight days later, that the emails did not change the agency's original judgment, underscores the irresponsibility of disclosing the trove in the first place — especially since Comey didn't seem to know much about the emails before deciding to alert Congress. Comey's new letter does, however, clear a fog which had formed around Clinton's campaign, though does so with barely more than two days until polls close on Election Day.
Here is what Comey wrote to members of Congress on Sunday updating them about the investigation into the new emails, which were discovered while investigating a computer belonging to the estranged husband of Clinton aide Huma Abedin:
I write to supplement my October 28, 2016, letter that notified you the FBI would be taking additional investigative steps with respect to former Secretary of State Clinton's use of a personal email server. Since my letter, the FBI investigative team has been working around the clock to process and review a large volume of emails from a device obtained in connection with an unrelated criminal investigation. During that process. we reviewed all of the communications that were to or from Hillary Clinton while she was Secretary of State.
Based on our review, we have not changed our conclusions that we expressed in July with respect to Secretary Clinton.
Clinton campaign spokesperson, Jennifer Palmieri, responded favorably to Comey's letter on Sunday, remarking that, "We are glad to see [Comey] has found — as we were confident he would — that he has confirmed the conclusions he reached in July and we're glad this matter is resolved."
This post has been updated throughout to reflect additional details and context regarding this breaking news story.