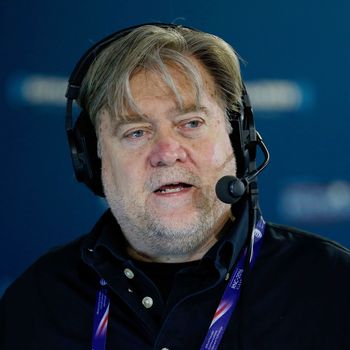 Photo: Kirk Irwin/Getty Images for SiriusXM
Steve Bannon, whom President-Elect Donald Trump has chosen to be his chief strategist and senior council, should probably skip his Harvard Business School reunion this year, and perhaps many, many years to come.

Six-hundred-and-fifty female students and graduates of the prestigious institution signed a scathing open letter to the New York Times about Bannon's role in the so-called alt-right movement, which "preaches white nationalism, racism, misogyny and hatred," as well as his executive position at Breitbart News.
"Hatred for women — hatred for anyone — has no place in the White House.
"We are female graduates and current students of Harvard Business School. We represent a wide range of religions, ethnicities and professions. We are daughters, sisters and mothers; native-born Americans and immigrants; Republicans and Democrats.
"While we do not always agree on politics, we can agree on this: We unequivocally disavow the appointment of our fellow Harvard Business School alumnus, Steve Bannon, as chief strategist and senior counselor to President-elect Donald Trump."
The letter went on:
"We believe that women in the highest positions of power have an obligation to ensure that the mistreatment of women is not blindly accepted and condoned — to use our voice, and our power, to combat the legitimization of hate.
"We are hopeful that President-elect Trump will use his power to advance the rights of women around the world. We are supportive of his potential policies, such as paid maternity leave, that promote those goals. In that spirit, we call for the appointment of unifying figures after a contentious election rather than people with divisive records and agendas."
Bannon, who is a self-professed fan of Satan, Darth Vader, and Dick Cheney's dark powers, has got everyone all riled up, from conservatives and Democrats to all the concerned citizens making actual phone calls to their representatives in Washington.