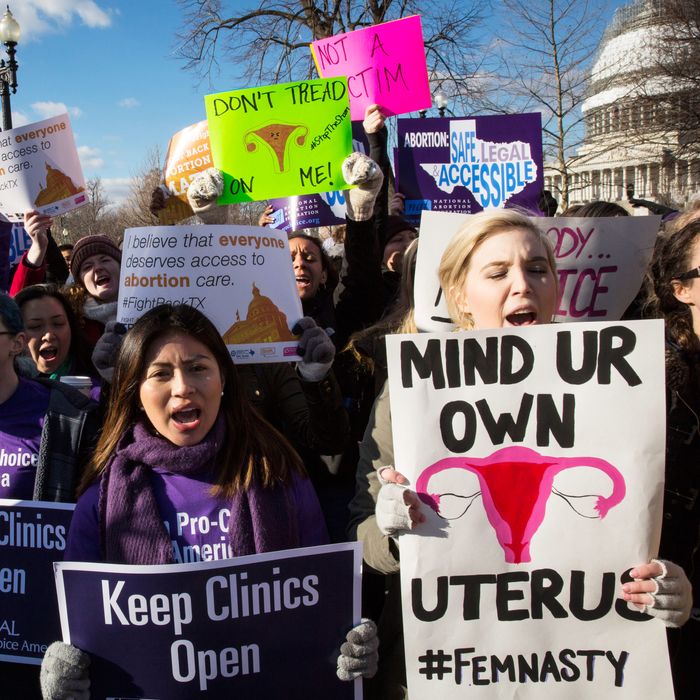 Pro-choice demonstrators.
Photo: Getty Images
Following Donald Trump's election, many people wondered if women's constitutional right to have an abortion would be at risk, and it might. But before Trump formally nominates a judge to fill the vacancy on the Supreme Court, reproductive advocates are still fighting to protect women's right to choose.
Today, representatives from the American Civil Liberties Union, Planned Parenthood, and the Center for Reproductive Rights announced that they've filed three lawsuits to challenge medically unnecessary restrictions on abortion in Missouri, North Carolina, and Alaska. These restrictions persist even after the Supreme Court ruled in June that two provisions of Texas bill HB2 — specifically, requiring that doctors who perform abortions have admitting privileges at a local hospital and that clinics meet the standards of ambulatory surgical centers — are unconstitutional because they place an undue burden on access to abortion before fetal viability.
Following that Whole Woman's Health v. Hellerstedt ruling, certain restrictions have been blocked in five states — Alabama, Alaska, Arizona, Oklahoma, and Wisconsin — but many anti-choice laws remain. "Since the election there's been a lot of attention paid to threats to access to reproductive health care at the federal level, and that's as it should be," Jennifer Dalven, director of the ACLU's Reproductive Freedom Project said on a call with reporters on Wednesday. "But the truth is that, today, even before the new administration takes office, for many women, the right to have an abortion is more theoretical than real."
In Missouri, providers are subject to nearly identical provisions as the Texas requirements passed in 2013 that were recently struck down: Providers must have admitting privileges and clinics must be ambulatory surgical centers. As a result of these expensive and unnecessary requirements, there is now only one abortion clinic left in the state.
Women in North Carolina seeking an abortion after 20 weeks can only get that care if they're facing a medical emergency. So, unless their health is in danger, they're forced to leave the state in order to terminate a pregnancy. And the 20-week mark is before fetal viability — any restrictions before viability in and of themselves are unconstitutional, per Roe.
And in Alaska, women are banned from having abortions in outpatient health centers after the first trimester, which ends after the 13th week. Women who need an abortion in the second trimester must also travel out of state, which is a particular challenge given Alaska's location. Clinics must also be equipped and staffed for "major" surgery, without specific requirements as to what that means.
"The restrictions we're challenging in these states are medically unnecessary, deceptive, and they take away women's basic dignity and autonomy. These restrictions are not based on advancements in medicine or technology nor are they about women's safety," said Julie Rikelman, litigation director at the Center for Reproductive Rights.
Rikelman also acknowledged that women's-health advocates know there are more battles to come. "Today's filings are a major step in the fight to ensure all women can get safe and legal abortions in their own communities when they need them," she said.