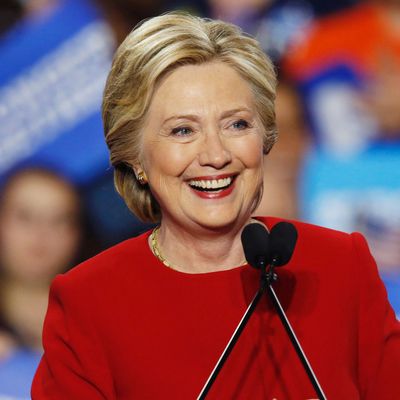 Photo: JEFF KOWALSKY/AFP/Getty Images
During her run for the presidency, Hillary Clinton rarely gave a campaign speech without mentioning her 2-year-old granddaughter Charlotte Clinton Mezvinsky. But outside of a couple photos released by the campaign, we haven't had a chance to see Clinton as a grandmother in action.
We finally get a glimpse into that side of Clinton in a video filmed backstage at an event last May that was not widely distributed by her campaign. In the video, President Clinton's deputy chief of staff Jon Davidson hands off his phone to the Clintons to have a FaceTime session with their only granddaughter.
The Clintons can be seen talking to their granddaughter and telling her they love her. In the video, Clinton's son-in-law, Marc Mezvinsky, can be heard speaking to his daughter.
Clinton and her daughter have spoken in the past of these cherished FaceTime sessions, with Chelsea Clinton saying that her mother would "drop anything" to spend a few moments talking with her granddaughter.
There is no better example of Clinton's dedication to her granddaughter than when she was spotted on Election Day by the traveling press corps sneaking in a last-minute FaceTime session with her on the tarmac of the Westchester County airport.