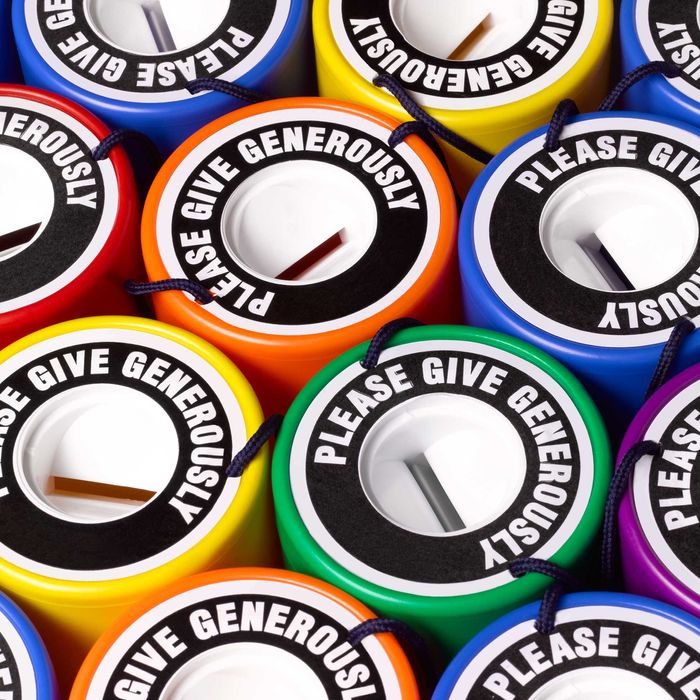 Gift back.
Photo: Peter Dazeley/Getty Images
Here, a wide range of very worthy charities to donate to in your loved one's (or better yet, a loathed one's) name.
Acadia Center
Through legal strategy, public advocacy, and consumer education, it aims to generate practical methods for universalizing the use of sustainable-energy sources.
Amnesty International
The charity advocates for people in the direst of circumstances worldwide, including refugees and asylum seekers.
Asian American Legal Defense and Education Fund
Empowers Asian-Americans at risk of exploitation and apprises them of their legal rights.
Brady Campaign to Prevent Gun Violence
Those much-discussed mandatory background checks meant to prevent the easy sale of a firearm? They were the brainchild of this foundation, which hopes to reduce the number of American gun deaths.
Center for Constitutional Rights
Among the center's areas of interest: the prevention of LGBTQI discrimination, Palestinian solidarity, the closure of the detention center at Guantánamo. Using creative legal strategies, it has undertaken precedent-setting litigation to address these issues and more.
The Center for Reproductive Rights
A legal-advocacy organization solely dedicated to safeguarding reproductive rights around the world.
CenterLink
A directory for LGBT centers guiding people to places that "advance their safety, equality, and well-being."
Council on American-Islamic Relations
A civil-rights and advocacy group that helps protect American Muslims' constitutional rights in the face of discrimination, defamation, or hate crimes.
Earthjustice
Founded in 1971 during a battle to spare a tract of Sierra Nevada land from becoming a Disney ski resort, the organization continues to use the law to fight climate change and preserve natural places.
EMILY's List
An organization comprising some 3 million members, it aims to win elections that put pro-choice Democratic women into national, state, and local office.
Everytown for Gun Safety
A gun-violence-prevention group that works primarily with state legislatures to enact policies requiring background checks and stronger trafficking laws.
Global Green USA
Its "Green Urbanism" initiative is meant to be a replicable model for a more sustainable city.
Government Accountability Project
The preeminent truth-teller-protection organization has defended more than 6,000 whistle-blowers to date.
Immigrant Defense Fund
Launched in November by the Mexican American Legal Defense and Educational Fund (MALDEF) and the National Day Laborer Organizing Network (NDLON) to fund-raise and support litigation against the Trump administration.
Make the Road New York
Encouraging immigrant New Yorkers to unify, MRNY has also advocated for laws to prevent deportations and helped pass a law to end the use of lead paint in apartment buildings.
The Movement for Black Lives
Comprising over 50 black-led organizations — from the Black Alliance for Just Immigration to Mothers Against Police Brutality to the Coleman Advocates for Children & Youth.
The NAACP Legal Defense Fund
The Thurgood Marshall–founded civil-rights organization provides legal services in the fight against racial discrimination.
NARAL
Works (through litigation and promoting pro-choice candidates) to protect and expand reproductive freedom for women.
National Immigration Forum
Champions policies that guide immigrants toward citizenship and develop humane border enforcement.
National Immigration Law Center
Advances the rights of low-income immigrants through policy and litigation; has advocated strongly on behalf of "Dreamers.".
National Women's Law Center
Has been fighting for 40-plus years for better policies and laws to protect women's rights (on issues like health care, education, employment), with an emphasis on those from low-income communities.
National LGBTQ Task Force
Trains activists to help promote equality for LGBTQ people.
Natural Resources Defense Council
The fund-raising giant throws its considerable resources behind protecting ours.
Planned Parenthood
Essential services provided include abortion, contraception, emergency contraception, STD and pregnancy testing, and health care.
Southern Poverty Law Center
With its double mission of tracking hate groups and teaching tolerance, SPLC has monitored and reported on the actions of the KKK and neo-Nazi movements, among others, for decades.
The Trevor Project
Provides crisis-intervention (and suicide-prevention) services to LGBTQ people ages 13 to 24.
The United Nations High Commissioner for Refugees
Provides protection, shelter, health, and education to refugees around the world.
Witness
The Brooklyn organization empowers victimized people to capture what's happening to them on film, developing apps and platforms to safely and effectively share videos of human-rights abuses.
*This article appears in the November 28, 2016, issue of New York Magazine.