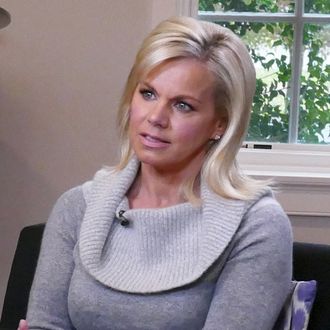 Amy Robach and Gretchen Carlson on 20/20
Photo: Ida Mae Astute/ABC via Getty Images
Former Fox anchor Gretchen Carlson sat down with ABC News' Amy Robach on 20/20 for her first television interview since she settled her sexual harassment lawsuit against former Fox CEO Roger Ailes.
Carlson, who filed the lawsuit in July, told the Good Morning America anchor that she didn't speak up sooner because she was afraid it would affect her career. "You fear that it's going to be your fault, you're not going to be believed, you're going to lose your job… You're going to be that woman — a troublemaker," she said.
Carlson also asked Robach if she herself had experienced sexual harassment during her career, to which Robach replied that she had. They're not alone, of course; Carlson read excerpts from a number of letters from women who shared their own experiences, and even one father who thanked her for encouraging other women to come forward and being a role model for his young daughter.
Carlson plans on appearing before Congress to testify against forced arbitration clauses in job contracts, which is one of many tools used to keep harassment allegations secret. "What it technically means is that if this happens to you at work nobody will ever know about it. We as a country have to come up with a solution for every single one of them, to feel comfortable enough to come forward and not feel like they're going to lose their job. And that's what I hope to at least start the discussion on," she said.
She also responded to comments like those made by Donald and Eric Trump that blamed the victims of sexual harassment. "I consider myself to be a pretty damn strong woman, and finding another job is not a realistic way to solve this problem. Women should not have to face this in the workplace, period."