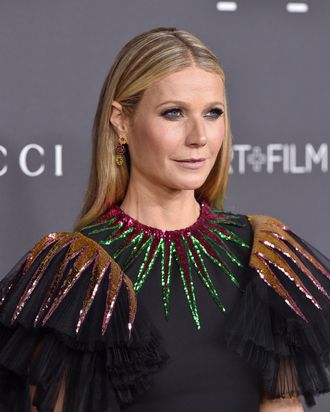 Gwyneth Paltrow.
Photo: Axelle/Bauer-Griffin/FilmMagic/Getty Images
Though much of America is still reeling from Donald Trump's presidential election win, life for Gwyneth Paltrow has continued as normal. Last week, she launched her now-infamous Goop gift guide (complete with an $8,300 yurt), and this weekend, she spoke at the Airbnb Open conference in Los Angeles, where she expressed excitement in the face of our country's doomsday reality.
"It's such an exciting time to be an American because we are at this amazing inflection point," Paltrow said, according to "Page Six." "People are clearly tired of the status quo, and … it's sort of like someone threw it all in the air and we're going to see how it all lands. It's very important for me, personally, now more than ever, to create a community and to remember the humanity of everybody and to create love and … understanding."
Paltrow then expressed empathy for "the opposition," though she would not reveal which candidate she supported in the election. "The most amazing thing for me about this election is I felt … 'I don't understand the opposition well enough at all,'" she said. "I'm not going to tell you what side I'm on, but my big takeaway was, 'I really need to open my mind and understand better because I don't.'"
Paltrow is a longtime Democratic donor. She was an outspoken supporter of President Obama, and she held a reelection fundraiser for him in 2012. This cycle, however, she kept quiet, even as her close personal friends Lena Dunham and Beyoncé made public appearances for Hillary Clinton. Paltrow made only a small, coded gesture of support for Clinton on Election Day, when she posted a photo of herself wearing a pantsuit on Goop's Instagram account. Now that Trump is the president-elect, she has gone right back to projecting complete neutrality.
It does not really matter what multimillionaire Gwyneth Paltrow thinks about Trump's ascendancy; she's going to be fine regardless. Her refusal to publicly support Clinton, however, lends some credence to an old Radar report from July 2015. At the time, sources claimed that Paltrow offered to plan a fundraiser for Clinton, but Clinton, for whatever reason, said no. "Gwyneth was trying to have her input because she thinks she is the guru of these things since she hosted the fundraiser for President Obama last year," Radar's "insider" alleged. "Hillary has told her people she wants Gwyneth to have no part in this one."
Justin Bieber's manager, Scooter Braun, ended up hosting the fundraiser, and Paltrow made no public effort to support Clinton after that. Gwyneth Paltrow doesn't forget.