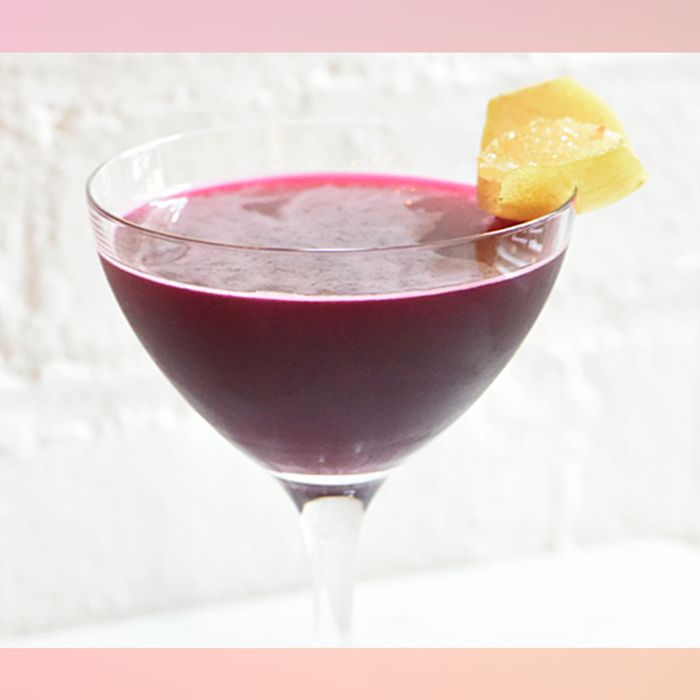 The magenta finished product.
Photo: Haven's Kitchen
Pretty Things: A weeklong break from reality, dedicated to beautiful objects.
When challenged to show off his prettiest cocktail, David Mawhinney, Culinary Director of Haven's Kitchen, made one inspired by a familiar situation: post-sweat brunch.
"My Beet Retox cocktail is a play off of a drink one might get at a juice bar after a Sunday-morning workout," he says. "But here, I stuck with more familiar territory and opted for the booze-based version and skipped the gym." Besides beet, the Retox has lemon juice, ginger juice, simple syrup, vodka, and habanero.
"When we're talking about pretty, I always think it's a little delicate and a little playful," Mawhinney told the Cut. Easy ingredients to stock in the kitchen are fresh citrus (which should be squeezed right before serving to avoid oxidation), green herbs, and sparkly candied ginger. If you want to step it up a bit, invest in better-quality alcohol and experiment with bitters.
Whether you're making a drink pretty with taste or visuals, the key is to not be too serious. Watch the Beet Retox come together in the video below.