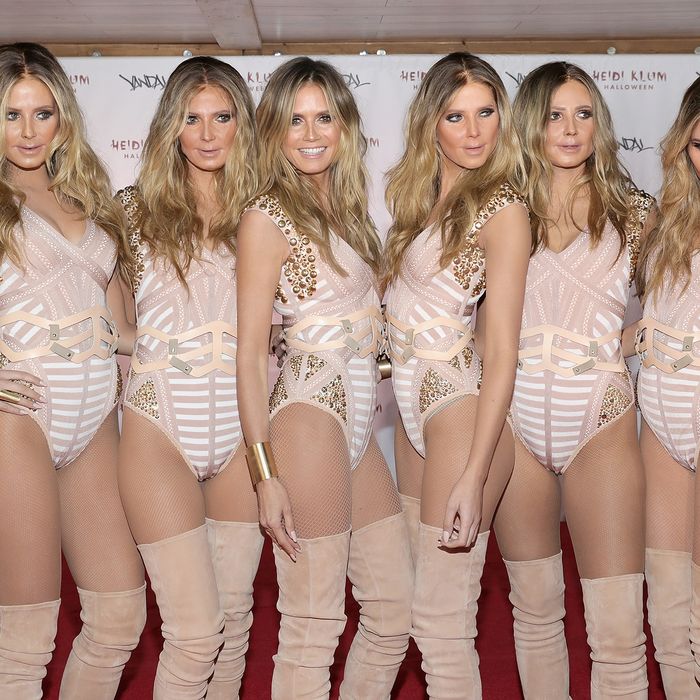 Heidi Klum x 6.
Photo: Neilson Barnard/Getty Images for Heidi Klum
It's safe to say that Heidi Klum sets the bar pretty high for herself every Halloween. She's known, after all, for her fabulously creative but meticulous Halloween costumes (who could ever forget how she brought Jessica Rabbit to life last year?). But after years of sitting for hours in the special-effects makeup chair, it seems Klum has finally tired of the ordeal. Or at least that's what it looks like, given what happened this year. This Halloween, Heidi Klum opted to dress simply as herself and instead have five other women dress up as, well, Heidi Klum. It's Heidi Klum x Six for 2016, y'all.

Klum effectively cloned herself a few times over with the help of some look-alike models in identical outfits and matching makeup. Klum usually keeps her costumes a big surprise every year, opting instead to reveal them at her annual "Heidi Halloween" party (this year marks the 17th!). But Klum also hypes up the finished look by previewing the behind-the-scenes makeup process on social media. After all that teasing, though, this year's big reveal doesn't seem to be sitting too well with her fans. As of Monday night, there were plenty of comments on her Instagram photos with the snoozing emoji, and many an "I'm disappointed" remark. Guess there's always next year?