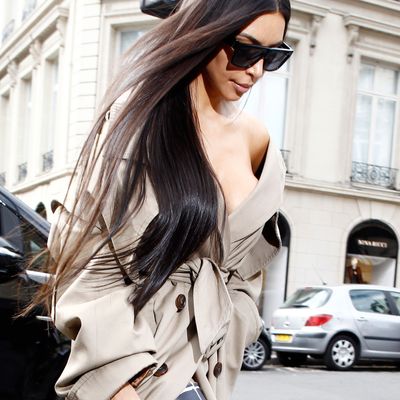 Kim Kardashian.
Photo: NurPhoto/Getty Images
Ever since Kim Kardashian was robbed at gunpoint in her Paris residence, the reality star has been conspicuously silent on social media, much to our dismay. Thankfully, Kardashian finally broke her social-media silence on Monday night with three otherwise inconspicuous Facebook posts.
She posted two links to her own website — one to a post with old family Halloween videos, and another to ideas for last-minute costumes — and of course, a picture of herself with the LuMee illuminating smartphone case, which is designed to give selfies optimum lighting.
Despite our relief, however, it appears Kardashian changed her mind about resuming her social-media presence. The three Facebook posts were deleted from her page by mid-Tuesday afternoon. Her page now has no new posts since October 2, the day of the robbery.
What a roller coaster.
This post was updated after Kardashian deleted her Facebook posts.