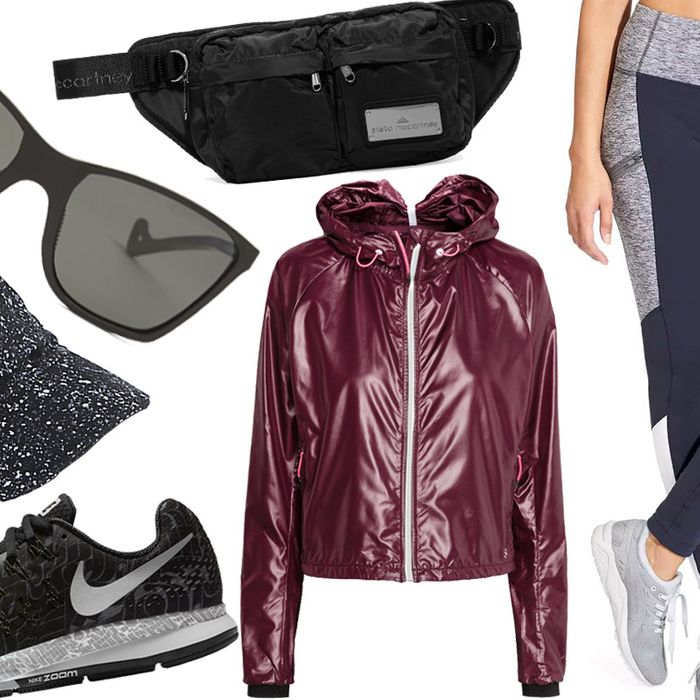 When it comes to working out, there are a few approaches. You could be a masochist, ready to torture yourself with the highest-intensity exercise possible. Perhaps you believe in moderation, casually dipping in and out of classes as your schedule fits. Or maybe you find running to be your own personal therapy session. Whatever your beliefs, it can get complicated the minute it gets cold and dark. When it's 7 a.m., 45 degrees, and pitch-black outside, it takes willpower to not throw the covers over your head and go back to sleep.
While the right gear won't physically drag you out of bed, it can make it more pleasant when you do get outside. From the warmest leggings to the right layers to keep you cozy yet dry, scroll ahead to see the best cold-weather running gear. Because remember: Running is free and ClassPass just canceled its unlimited membership.
Good leggings are crucial, especially in the colder months when the wind can cut straight through most fabric. This paneled style by Athleta features fabric meant to withstand even the most frigid days and offers sizing up to 2x as well as inseams for petite and tall. Plus, it has a fleece lining to make you feel extra cozy.

Are you an early morning or night runner? You'll want something reflective for safety's sake. These Lululemon tights are definitely expensive — but if you're looking to splurge on a pair that also has a really amazing fit, go for these.
You're going to sweat, even if it's 10 degrees outside. Instead of feeling clammy and miserable as it evaporates, wear a long-sleeved tee that wicks away moisture. Outdoor Voices has a graphic-patterned style, while J.Crew's New Balance collab is more sedate.
From now until the first snowfall you can get away with a thinner shell that blocks wind. H&M is a great place to get one if you're looking to spend less than $50. If you're looking for something heftier, this dark floral Adidas by Stella McCartney style can be worn with just a bra or layered with a long-sleeved top.
A windproof jacket not enough? A fleece-lined hoodie or sweatshirt worn over a long-sleeved tee can serve as an extra layer of warmth.
So the windchill is in the single digits and you're stubborn enough to head outside, regardless of the warnings. For those die-hard, masochist types, you'll need a sleek down jacket. This Nike one features reflective bits for low-light conditions as well as stretch panels on the side, for maximum flexibility.
For running, a medium to heavy support bra is best, despite how constrictive it might feel. Nike's version is ideal for smaller chests while Under Armour goes up to a 38DD.
When it comes to stocking up on socks, Amazon Prime is your friend. These black, no-show ones are ideal to blend seamlessly into your black running sneakers and come in a six-pack. Buy a few to last you the month.
Running sneakers are a very personal choice depending on your stride. But if you happen to be among the few who have the flexibility to wear nearly any shoe and want a solid, stylish shoe that performs well, you can't do better than this one.
Yes, it's a glorified fanny pack, but you still need to carry all of your crap like keys, phone, and cash.
Besides H&M, Old Navy is another great spot to stock up on inexpensive workout clothes but one of the best finds are these running gloves. They're tech-friendly, wick away sweat, and are $15.
It's common sense to wear a hat when it's so cold outside, and you have two options: a cozy beanie or a cap. This one can be worn year-round, especially if you pair it with a headband that wraps around the ears.
Sporty sunglasses have a bad reputation for being ugly and hard to wear outside of exercising. District Vision is the exact opposite. Created by two runners who also happen to love chic design, it's one of the most expensive items here but absolutely worth the investment.
If you buy something through our links, New York may earn an affiliate commission.