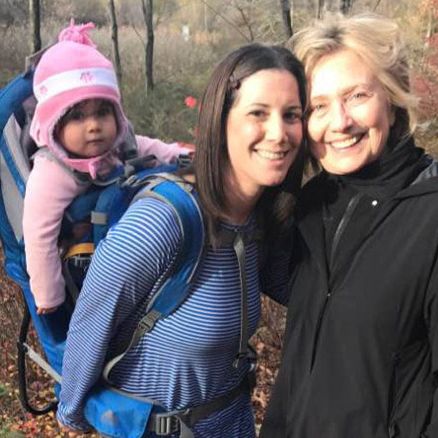 Margot Gerster just happened to bump into Hillary Clinton on a hike.
Photo: Margot Gerster/Facebook
The day after the presidential election, New Yorker Margot Gerster was feeling dejected, so she decided to go for a hike in the woods surrounding her Chappaqua home. While there, she had an unexpected encounter. "As we were leaving, I heard a bit of rustling coming towards me and as I stepped into the clearing there she was, Hillary Clinton and Bill with their dogs doing exactly the same thing as I was," Gerster wrote in a Facebook post that quickly went viral.
She asked Clinton for a picture, and Clinton agreed. Gerster's photo with the former secretary of State was shared on Facebook thousands of times, but according to the New York Post, not all responses were positive. When the Post asked Gerster if she's received threats, she said "yes," but didn't elaborate.
"I don't want to discuss this anymore," she said. "This story needs to go away. It got a lot of positive feedback from a lot of people, but I don't want this to add on to this [blowback]; I don't want to fuel the fire."
She declined to say whether she'd reported any threats to the police, and when the Post asked the New Castle police, which covers Chappaqua, whether they'd received a report from Gerster, a spokesperson said they had not.