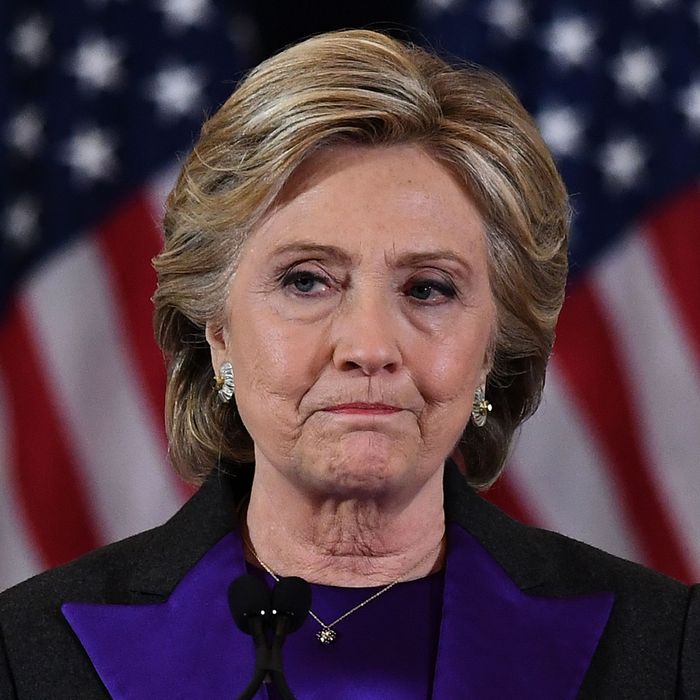 Photo: Jewel Samad/AFP/Getty Images
Hillary Clinton told her top campaign contributors on Saturday that F.B.I. Director James Comey was to blame for her loss to Donald Trump on Election Day, according to Politico. During a 30-minute conference call with donors who gave $100,000 or more to her campaign, Clinton cited the two letters Director Comey sent to members of Congress, regarding an ultimately inconsequential trove of newly discovered emails, as the main reason Donald Trump was able to pull off his shocking upset win on Tuesday. In particular, she claimed that the second letter Comey sent two days before the election, in which he cleared of her and her aides of wrongdoing yet again, did even more damage than the letter announcing the trove in the first place.
According to Clinton, campaign data indicated that the first letter had indeed initially made her numbers collapse, but they later recovered. The second letter, however, drove a late push of Trump voters to the polls, as it damaged her standing with those who bought into Trump's rhetoric about Clinton benefitting from a "rigged system." Per the New York Times, also reporting on the call, the Clinton campaign said that the damage done among undecided, white, suburban women was particularly important, as those voters then broke for Trump after being reminded of Clinton's email-server scandal so close to the election.
Clinton apparently conceded that there are "lots of reasons why an election like this is not successful," but that Comey's ultimately pointless announcements were what "stopped our momentum," and prevented the campaign from making the optimistic closing argument it wanted.