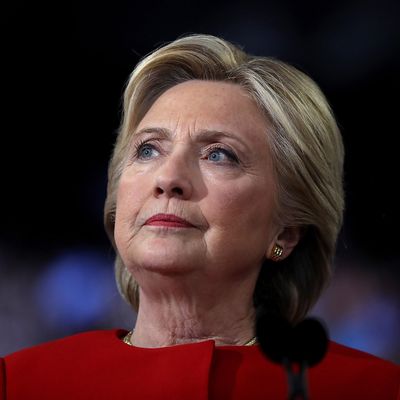 Hillary Clinton conceded the presidency to Donald Trump.
Photo: Justin Sullivan/Getty Images
On Wednesday morning, Hillary Clinton took the stage in New York to concede the presidency to Donald Trump. But first, she apologized to her supporters. "I'm sorry," she said. "This is not the outcome that we wanted and we worked so hard for, and I am sorry that we did not win this election."
She went on to deliver a graceful and positive speech, at times holding back tears. She expressed her hope that Trump will govern evenhandedly — "We owe him an open mind and a chance to lead," she said. And she spoke in support of the groups who've felt marginalized by the Trump campaign: "The American dream is big enough for everyone. For people of all races and religions, for men and women, for immigrants, for LGBT people, and for people with disabilities. For everyone."
Then, she turned her remarks toward women.
To all the women and especially the young women who put their faith in this campaign and in me, I want you to know that nothing has made me prouder than to be your champion. I know we have still not shattered that highest and hardest glass ceiling, but someday someone will, and hopefully sooner than we might think right now.

And to all the little girls who are watching this, never doubt that you are valuable and powerful and deserving of every chance and opportunity in the world to pursue and achieve your own dreams. 
Clinton ended her speech with a call to action. "There are more seasons to come," she assured her supporters. "And there is more work to do."