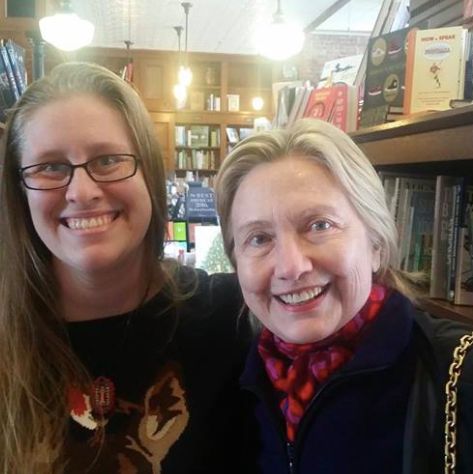 Lately, it seems Hillary Clinton has been focusing on the simple things in life that bring joy. And, so far, that's entailed taking in some fresh air and finding just the right book to curl up with.
For evidence of this, we needn't look further than when Clinton was spotted at the Savoy Bookstore in Westerly, Rhode Island, on Sunday. Or, when little more than week ago, she ran into a mom and her daughter while hiking near her home in Chappaqua, New York. Actually, we can also take her word for it. In her first speech since the election on November 17, Clinton told a crowd at a fundraiser, "There have been a few times this past week when all I wanted to do is just to curl up with a good book or our dogs and never leave the house again." Still, she implored a younger generation to take up the fight. "America needs you, your energy, your ambition, your talent," she said.
Meanwhile, she's taking her time, like any avid reader would, while going through a bookstore. Well, maybe not just any avid reader. She was joined by Bill Clinton, Chelsea Clinton, Chelsea's husband, Marc Mezvinsky, and baby Charlotte. An employee of the Savoy Bookstore, Jessica Wick, wrote about her experience meeting the first woman nominated by a major party for the presidency (and who currently leads in the popular vote). Wick writes on Facebook that she wasn't quite as eloquent as she would have liked to be, nor did she want to cry. But here's what she wishes she could have said:

"I'd have liked to tell her how, at that very bookstore, behind the very same counter she approached to ask about a book, I listened to her concession speech with two of my co-workers and we cried; how in that same spot customers and employees have talked about her with regret and hope," Wick wrote. "She was gracious and she was warm and she said the bookstore was beautiful."

You can read Wick's full account here.