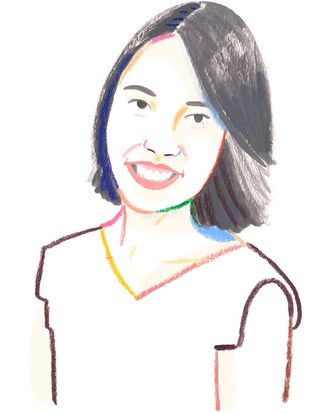 Illustration: Rebecca Clarke
Stephanie Oula is a gender consultant for Data2X/Girls and Women at the UN Foundation. She lives in Jackson Heights, Queens — a speedy commute away from the UN headquarters in midtown. She tries to block out time for her academic research on post-genocide masculinity; during high-level events like the UN General Assembly, though, her schedule's booked from early in the morning until late at night. Here's how she gets it all done.
On a consultant's typical day during the United Nations General Assembly (UNGA):
I was up probably around seven, even though I definitely would have gone to bed very late the night before. I'm not a morning person, so I have to set about four alarms, spaced out at 30-minute and 15-minute intervals. I need to keep my phone far away from me or otherwise I will snooze. After I'd wake up, I had a cup of green tea. I had planned out an outfit the week before because I tend to do an outfit overview on Sunday nights for the whole week, especially during UNGA, where you sort of have to do double duty on everything you wear because you're going to several events.
During UNGA, events can start as early as 7:30 a.m. and go through 11 p.m. There is everything from breakfasts to panels to bilateral meetings, and receptions in the evening. Now there are even post-receptions. My morning event was probably two hours or so. There was a breakfast networking portion, followed by a town-hall-style discussion. I said hi to partners, met with people we do work with, talked about specific initiatives. There is this buzz and excitement in the air at UNGA because it's one of the big moments of the year when everyone in this field gathers in New York. It's a unique moment to hear from champions you wouldn't otherwise hear from as directly. Many of my conversations with partners between events are West Wing–style walk and talks.
After the Women Deliver event that I attended, I went straight to the office and bunkered down until I was ready to head over to headquarters for our UNGA high-level event. At the office, I was monitoring daily tasks, writing emails, doing last-minute things that had come up. I came back for our event, one that launched UN Women's flagship program on gender and statistics, which is called Making Every Woman and Every Girl Count. UNGA events are a little bit like weddings: You do all these preparations over weeks and months and then it goes by really, really quickly. After the event and a debriefing were over, our team split and went to a few different events. Then we had a reception until 8:30 or so, followed by team drinks, where we celebrated the success of the event and all the hard work that had gone into UNGA in general. I went home that night particularly late, but the cycle started all over again the next morning.
On how she powers herself for a week of running around from 7 in the morning until 11 at night:
I don't drink coffee — or if I do, it's mostly milk and sugar with a hint of coffee. I'm a tea drinker. Green tea, preferably, although if I'm feeling very stressed, I used to do this thing where I'd put 12 packets of sugar in Earl Grey with milk. I think event organizers are very conscious about the fact that you are usually running around all day, so during the breakfast, lunch, and dinner-ish hours, there is usually sustenance available for you if you have a full-day schedule. So I'm generally drinking lots of tea throughout the day and making sure I'm taking advantage of the catering during the events.
On boundaries instead of balance, and why she enjoys diving completely into her work:
I think what works for me is not necessarily balance, but boundaries. I'm the type of person who likes to get really deep into work during highly stressful periods. It's almost like I take a break from the other parts of my life so I can really focus on doing all work, all the time. That doesn't stress me out: I'm happy and productive and feel like I'm getting something done. The flip side of that is when I'm not working, I really don't want to be working, and I need to be very disconnected. That can't necessarily happen every day.

I tend to handle a flurry of activity very well. I'm one of those people who is very on when I need to be on. I can do a million meetings a day and talk to a million people, talk to a million partners, and attend a million events. But when I'm off, I don't want to do any of that. I actually think that the idea of "work-life balance" creates additional pressures — if you're not balancing well, you sort of feel bad that you're not where you are supposed to be.
On why her Saturdays are sacred but her Sundays are still a workday:
Around high-level events like UNGA, you are definitely working both Saturday and Sunday, but otherwise, I try to keep Saturday free as a general rule. That's my no-alarm, no wake-up day. I try to reserve it as my downtime day; I try to run errands, and I also try to vintage shop or go out to see friends. I use Sunday as a slow transition to going back into work.
Sunday, I start tying up loose ends, post-lunch. I reserve my Sunday mornings, too, so that I can kind of do the typical weekend things that everyone aspires to. Sometimes that does happen! I try to fit in some academic work where I can, too. Reading, writing, just keeping an eye on upcoming conferences that I need to keep on my calendar, or planning upcoming research trips.
On having a yoga-studio membership — even if she never uses it:
I have a YogaWorks membership that I want to say is, hm, aspirational. Sometimes there are months when I do not use it at all and I think, Oh my god, why do I have this? But I go through phases where sometimes I'm very enthusiastic and try to hit three or even four classes that week, and I feel very good, like I have a good routine going. Then sometimes work and other things hit and I forget I even have a membership. When I'm in it, I'm really in it. When I'm not, it just doesn't happen.
On her time-saving strategy for tackling an onslaught of emails:
I prefer to not be monitoring email all day. I would rather knock out 20 emails in the span of an hour and a half rather than continuously respond to emails over four hours. I admire people who are very on top of their inboxes. I am not necessarily one of them. I find that if I'm on email all the time it's really hard for me to focus on other tasks, like writing or actually doing other work besides email. I try to keep that separate. On the flip side, I'm really notorious for writing really long and obsessively organized emails with a lot of bullets and selective bolding. I'm the kind of person who actually does like email chains. Some people prefer calls or in-person meetings; I'm a mix of both, but I do like having that record and getting to see everybody's articulated positions all in one place.
On why it's important to ignore your worst critic — yourself:
I'm a person who says yes by instinct and that's really benefited me in a lot of ways, but it's also something I'm not sure I could get rid of. When you are a person who says yes a lot and you also happen to be an overthinker, you can get mired down in the mistakes — or even perceived mistakes — that you've made. When your own performance or your own expectations of yourself are things you think about a lot, there is this feeling that you need to keep everyone happy. I find that the best way to deal with that is to listen to my instinct when I know I'm being a little bit too hard on myself. And I like to war-room, too — I go through all the possible outcomes of a particular fear or challenge. What are the situations I'm worried about? What would be the worst scenario? The best scenario? What would I do if the worst scenario actually happened? It's important to maintain a bigger-picture perspective.