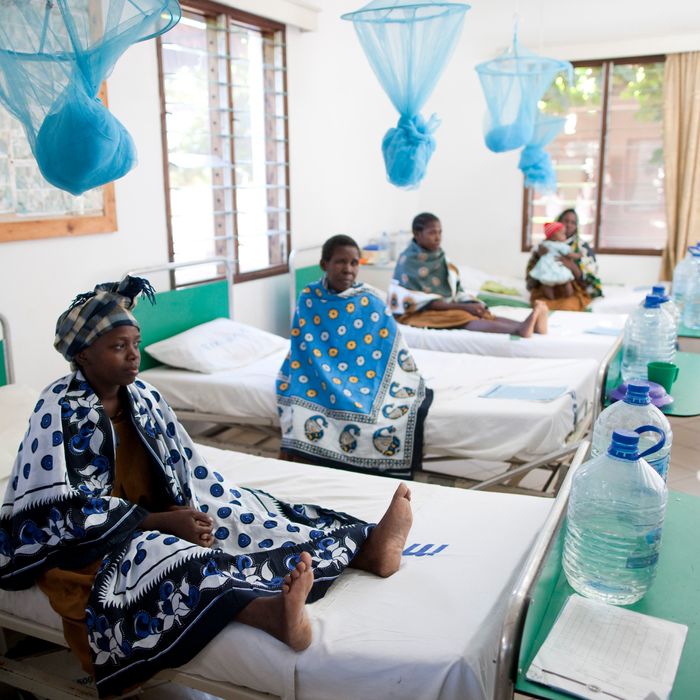 Female patients at a clinic in Tanzania.
Photo: Thomas Trutschel/Photothek via Getty Images
Mere days into his presidency, Donald Trump is expected to make a critical decision on women's reproductive health that could have dire and immediate consequences for women worldwide. Global health experts believe Trump will likely reinstate the Mexico City Policy — or as it's known in the health community, the Global Gag Rule — a Reagan-era policy prohibiting groups receiving U.S. aid from providing abortions, or even counseling patients about the procedure. Doing so could force clinics to close, decrease access to contraception, and lead to an increase in unsafe abortions, experts say.
President Ronald Reagan enacted the Mexico City Policy in 1984. It has since become a tradition for incoming presidents of opposing parties to make immediate decisions about the policy. President Bill Clinton revoked it right after taking office; President George W. Bush reinstated it shortly after his inauguration; and President Barack Obama once again revoked the policy as soon as he entered the White House.
"It literally has become a political football that is completely aligned with what party is in power," Suzanne Ehlers, president and CEO of Population Action International (PAI), told the Cut. "[We are] operating under the assumption that it will be reinstated if not on Trump's first day in office, then on his second day in office."
The U.S. is the biggest donor in the world for women's health in developing countries. At first glance, the policy may seem like an attempt to ensure taxpayers' dollars are not being used on abortions. But the use of U.S. funds on abortions has actually been illegal since the Helms amendment was enacted in 1973. As a result, groups that accept U.S. aid are currently forced to use their own money (or funds from other donors) on those services. So the policy actually prohibits them from funding their own abortion programs. "What we're trying to get at, fundamentally, is limiting women's reproductive freedom and their ability to control their fertility," Ehlers said.
The policy forces organizations to decide whether to pledge that they won't provide abortion services, or to keep offering comprehensive health care while giving up a substantial chunk of their funding. "There's the practical fact that when you make really sudden decisions about where funding goes and movements, there's a lot of efficiency lost," Chloë Cooney, director of global advocacy at Planned Parenthood Federation of America, told the Cut. "You see clinics close suddenly because the funding that they were relying on disappears, and it's not like you can just open up another clinic, or someone else can just pop up and meet that community's needs."
It's not hard to find examples of organizations in the developing world that would be hurt if Trump reinstates the rule. Marie Stopes International, one of the biggest providers of women's reproductive-health services in the world, could be one of the groups that would lose U.S. funding. The group explained on its website that U.S. aid allowed it to provide lifesaving services after the devastating April 2015 earthquake in Nepal: 2,843 general and gynecological examinations, 586 contraceptive-implant insertions, the distribution of 355 safe-delivery kits, and 886 pre- and postnatal visits.
"Without [U.S. funding], MSI and our partners wouldn't have been able to reach vulnerable communities in Nepal, or in other high-risk environments like Pakistan, Afghanistan, and Nigeria," the organization writes on its website.
A 2011 study from Stanford University looked at the effects that the policy had in sub-Saharan Africa after George W. Bush reinstated it. The study found that the policy led to increased abortion rates in the region, since women had reduced access to contraception and were thereby forced to seek abortions as a way to prevent unwanted births.
And a 2015 study from the International Food Policy Research Institute found that the Planned Parenthood Association of Ghana had to close and consolidate many clinics because of the policy, particularly in rural areas. As a result, there was an increase in unwanted pregnancies in Ghana — and one in five of those pregnancies ended in abortion.
A rise in unsafe abortions can have serious health consequences: A PAI report found that 22,000 women die and 8.4 million suffer serious illness or injury after undergoing one. These deaths and injuries are preventable — all it takes is expanding family-planning services.
"Even though the Global Gag Rule is specifically about abortion, it will almost immediately begin to have an impact on health services to women in the developing world," Ehlers said.