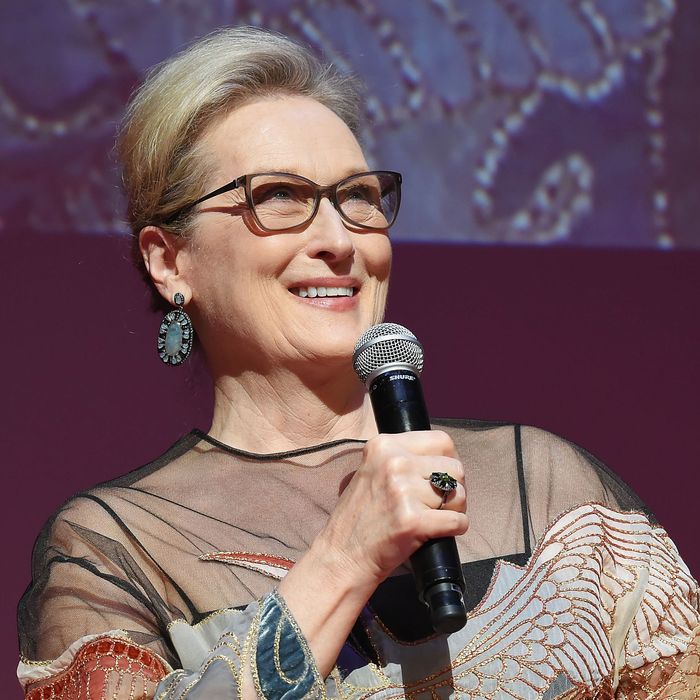 Meryl Streep.
Photo: Jun Sato/WireImage
It's fair to say that it takes a massive pair of balls to tell the legendary, insanely talented, and much-revered Meryl Streep how to do her job. But it's par for the course if you're the kind of guy who, prior to this highly awkward moment, actually sailed a ship attacked by pirates, revolted alongside the Nicaraguan Sandinistas, had a school you built as part of your humanitarian aid work destroyed by contra terrorists, and was nearly arrested when reporting on the last days of Pinochet's totalitarian government. (Only to escape thanks to an affiliation with Vogue magazine and Lucía Pinochet's love of the publication.)
"She is very personable," defended Florence Foster Jenkins screenwriter Nicholas Martin about Streep (not Pinochet) while attending the British Academy Britannia Awards presented by Jaguar Land Rover and American Airlines at the Beverly Hilton Los Angeles last Friday. Martin was speaking about a time of great humiliation that far surpassed his international follies. This anxiety-raising experience, to be fair, came at the hands of Martin's own ease in the presence of greatness, and Streep's dry sense of humor.
"My problem was that I became overly familiar with her. I'd get very, 'Oh, yeah, there's Meryl Streep, again.' There's this scene in the movie when she sings for the first time during a lesson. She did her first take and it was quite subdued. She was like, 'How was that?' And I said, 'Hey, Meryl, could you go back and give it some welly?' She looked at me and said, 'Well, I will be providing a range of colors by the end of the afternoon, but thank you for your help.'"
Of course, Martin was mortified. The woman whom critics cite as one of the greatest living actresses, who has been nominated 19 times for the Academy Award, and who boasts a next-level ability to master nearly any accent had just stuck it right back to him without hesitation.
"I was like, 'Ohhhh shiiiiiit!' So, I then said, 'Thank you, and I will indeed wait for the rest of the day to come quickly.'"
But come on, we insisted. Meryl is famously said to be quite down-to-earth!
"With her I am always on my toes," says Martin, who halfheartedly maintained, "We were colleagues! Equals!"
That said, when Martin's nerves were calmed, he did ask her something every screenwriter who lands Meryl Streep as their lead character does: why she said yes.
"She said, 'Well, Nicholas, because it's the least cynical script I've read in more than a decade.' That is Meryl's thing. She wants to do something positive in the world, and the key to it all is that. She said: 'You know, the thing is, I choose to be delighted by the world.' That's how I feel, too, and that's why I wrote this script. I think Florence also chose to be delighted despite the fact that she was incredibly ill with syphilis and her husband was cheating on her. She chose to be delighted despite all of this. I think that is the spirit of who Meryl is."
Is there a chance Martin will dare work with her greatness again? Can fans expect another collaboration from the two?
If not, there's always a less stressful political uprising to crash somewhere in the world.
"I do have something in mind for her that I can't share," he giggles. "I will write the script first and let me see if she'll do it and then I can talk."