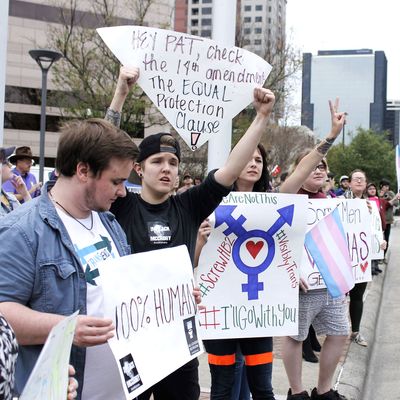 Demonstrators protesting legislation restricting bathroom access for transgender people in Charlotte, North Carolina.
Photo: Skip Foreman/AP
Parents of transgender youth feel a sense of urgency to protect their children after the recent election. As a result, more than a dozen parents have joined Human Rights Campaign's new Parents for Transgender Equality Council to fight for the rights of their children, the Washington Post reports.
The parents' council isn't a new idea — it's been in development for a while, since the Human Rights Campaign (HRC) saw a surge of what it calls anti-transgender legislation. In the last year, over a dozen states considered bills to restrict transgender students' bathroom access at school. These bills go against the Obama administration's directive that schools allow students to use bathrooms that match their gender identity, the Post reports. As the Republican Party rejects the directive, parents in the council have stepped up their game following the election.
The council was announced in Washington, D.C., on Monday, where several parents, HRC officers, and Democratic California representative Mike Honda, who has a transgender grandchild, spoke out at a gathering. Under the umbrella of the largest LGBTQ-rights group in the country, the council hopes to use personal stories to help change people's minds, so that transgender children are seen as individual people with families who love them.
The parents have hope that their personal stories will make a difference, since Republican governor Dennis Daugaard of South Dakota vetoed a bathroom bill after meeting with transgender youth. HRC president Chad Griffin said in a statement that parents of transgender children are on the "front lines" of the fight for equality:
"In the days since the election, transgender people and their parents have reached out to us filled with fear and questions about what the results of the election mean for their families. These parents, standing shoulder to shoulder with transgender people, are going to be vital in our continued effort to defend our progress, open hearts, and demonstrate to this country that transgender people are loved and worthy of being treated with dignity and fairness."