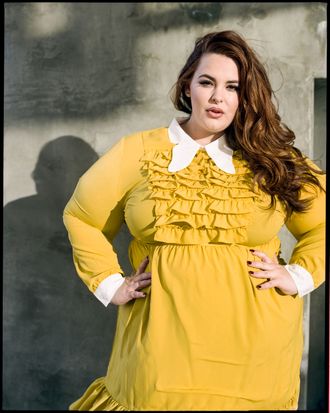 Tess Holliday.
Photo: Andre Wagner
Challenging outdated beauty standards in the fashion industry is all in a day's work for Tess Holliday. Her recent People magazine cover dubbed her "The World's First Size 22 Supermodel" and Vogue Italia named her one of the world's top plus-size models, but Holliday is so much more than that — she is a light in the dark for women who don't see themselves represented in media (and especially not in fashion). Holliday founded Eff Your Beauty Standards, a social-media movement where women can share positive images of themselves and find support from others all over the world, and she has modeled for brands like Torrid, Yours Clothing, Benefit Cosmetics, Monif Clarke, H&M, and Addition ELLE, oftentimes being the first plus size-model ambassador for brands.
"I think that I have a career because I never gave up," Holliday says. "I had to fight for everything. I was always in a position where I had to figure things out on my own. So when people told me that I couldn't model, I just remember thinking that it was ridiculous. I felt like I had already been through the impossible."
Before signing with Milk Management, Holliday worked odd jobs to provide for her first son, Rylee. She was just 20 years old when she was discovered in a Torrid model search, making it to the top 14 only to be cut. Around the same time she auditioned for the A&E show Heavy, which gave her some much-needed publicity. "I didn't realize how big it was, and if it had happened now I obviously wouldn't be the face of a weight-loss documentary series. People give me crap and say, 'How can you love yourself and do that?'" But it was a different time, I was a different person, and the show wasn't exploitative like The Biggest Loser."
When Holliday received an email from Milk Management in 2014 saying the agency wanted to sign her, she didn't think it was real. "I called to double-check that they really wanted me, and the owner, Anna, said yes, and I said okay. It was very casual. But once I met Anna in person, my life completely changed. I went from being my own advocate to having a team of people actually rooting for me."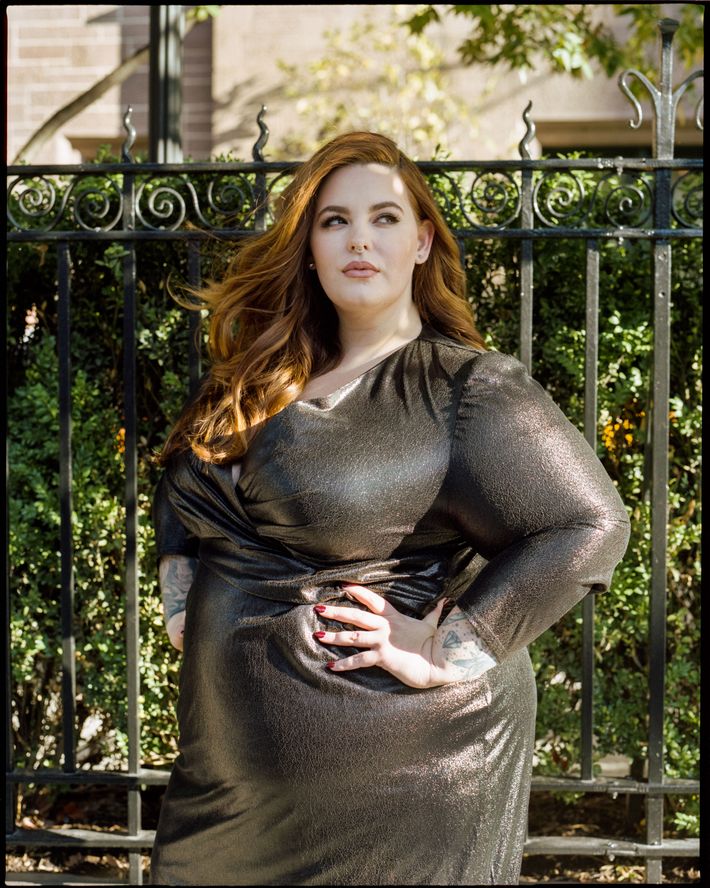 Eloquii Dress, $169.90 at Eloquii.
And since she's seen so much, and been part of the industry for so long, Holliday is acutely aware that publications cover body positivity to be trendy and rather than to invest in women of all sizes. "Many companies and publications don't understand what it means to be body positive or what it means to be plus-size," she says. "They're just trying to capitalize on the term because it's a hot topic. But it shouldn't be controversial to look [bigger than other people]. I think these companies and publications are doing us a disservice by not giving body positivity the respect it deserves."
"I don't understand why it's not okay to be plus-size," Holliday continues. "I don't know why people hate that phrase. Many models have built their careers as plus-size women and then suddenly don't want to be called that anymore. But you're still cashing checks from plus-size designers. Also, when young girls Google the term model, the first women that pop up are Gigi and Kendall. I think it's really important for all young girls to see themselves represented in fashion so they don't feel alone in the world."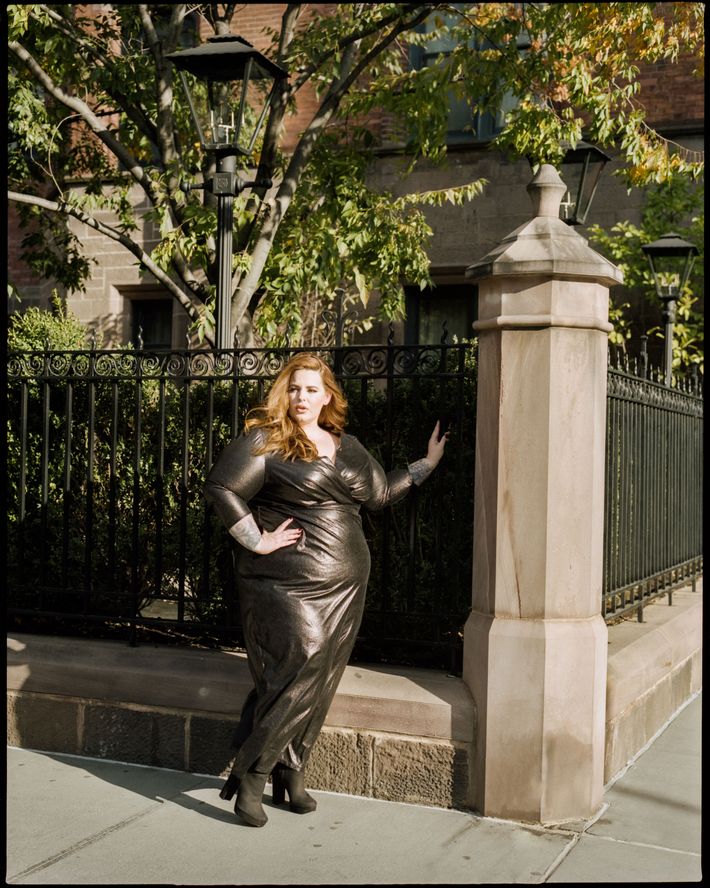 Eloquii Dress, $169.90 at Eloquii.
The hardest thing about being a body-positive enthusiast, Holliday admits, is the pressure. Most curve and plus-size models become body activists whether they want to or not, and it's not easy to have your figure under a microscope. "People would send me messages on social media like, 'There's no way you can have a healthy pregnancy' or 'Your baby is going to die,'" Holliday says. "I laughed at most of it but sometimes I thought, What if something totally normal that no one can control happens to my child and then people blame it on the fact that I'm fat."
Holliday had her second baby four months ago, and says the public pressure to bounce back is more than she expected. "I feel like you don't even get the chance to enjoy actually having a baby," she says. "I try my best to distance myself from the pressure, but it's a lot. I recently attended a Refinery29 event and I was reminded that I'm still the biggest person in the room. I'm still trying to figure out my new body and how I feel."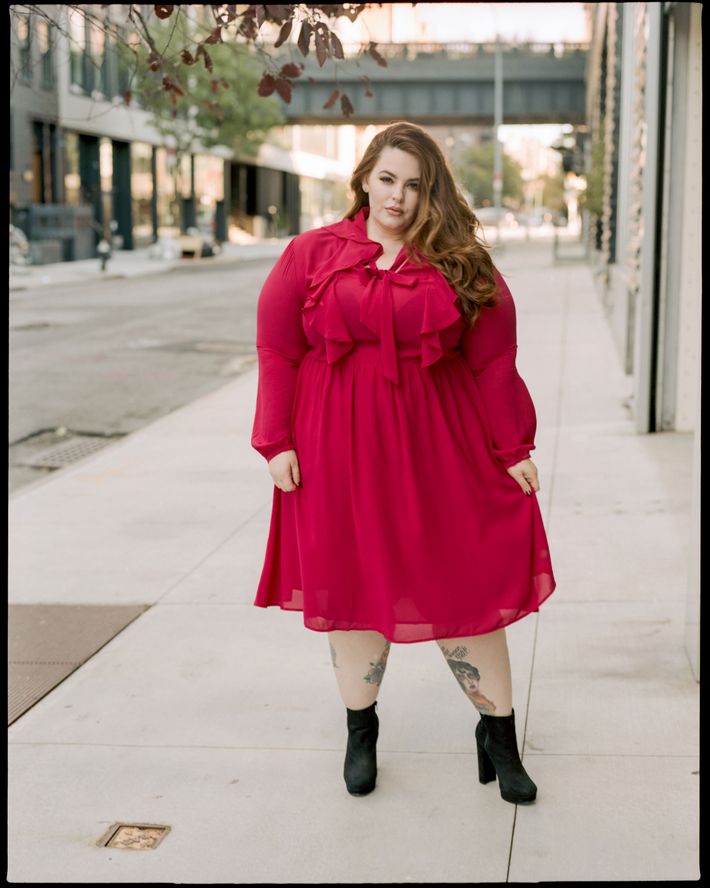 Eloquii Dress, $119.90 at Eloquii.
For Holliday, the need for more diversity in fashion isn't limited to size. "There needs to be more diversity in all areas — heights, gender, race. I'm still the shortest and biggest working model and I'm probably going to be for a while," she says. "All these companies do model searches and say all sizes welcome, but you know they're not signing anybody that's my height or size because all the requirements are that you have to be five-foot-eight and no bigger than an 18."
Looking back on her past two years as a professional plus-size model, Holliday acknowledges that it's okay to walk away if she decides she no longer wants to be the face of that world. "This all matters to me, but I don't think I'll really understand what it means until I'm not doing it anymore," she says. "It just feels like part of my life and my reality. I don't think of myself as anything different."
Photos by Andre Wagner, Styling by Lindsay Peoples, Makeup by Samantha Lau, Hair by Jerome Cultrera. Lead image dress by Eloquii, $129.90 at Eloquii.