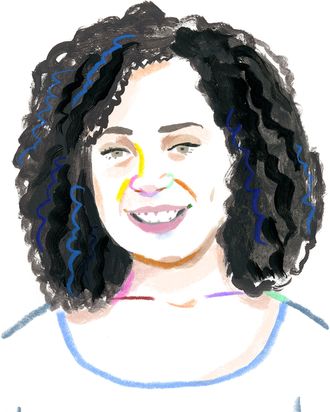 Morgan DeBaun, 26, is a co-founder and CEO of Blavity, a content platform geared toward black millennials. She's up every morning before 6 a.m. to make sure she's on top of the latest news, she sees every networking opportunity as a chance to make a deal, and she loves to visit other cities to meet Blavity's die-hard fans. Her site just closed its seed round of funding. Here's how she gets it all done.
On a typical day being in charge of a media company that reaches nearly a million black millennials:
I wake up a little before six, and the first thing that I do is check with the news team in Slack, to see what news pieces are going up, if there are any questions. I live in L.A., but we also have some developers in India, so they're working while we're sleeping. I'll check to see what they've accomplished. That's usually 20 minutes because there are random questions throughout the night. I just got an elliptical in my room so I hop on that for 30 minutes, from about 6:30 to 7 a.m. I'm still checking stuff while I'm on there, but nothing crazy — just reading articles that went up, checking Facebook, just getting the pulse of what's happened when I was away.
I hop in the shower and get ready — I usually give myself 30 minutes to do that — and have to leave by eight to get to a meeting by nine. I just closed our seed round of funding and our lead investor is in L.A., so I needed to meet with them about the game plan. On my way to the meeting, in my Uber, I call my mother — I haven't spoken to her in a week, which is way too long. I get there seven minutes early, grab a protein bar because I forwent breakfast, and I meet with their team for an update on their strategy for the year. The meeting lasts 45 minutes and afterward, we get good news about a big deal, so I get on the phone with the team, give them the outline for the pitch deck, and give them feedback so they can keep working while I'm en route back to the office. I get into the office and I'm literally still on the phone with them as I walk in.
I have a meeting with the CEO of JibJab in Marina del Rey so I'm back out the door after having lunch with a friend from college in the office. After the meeting, it's back at the office. (It also doubles as my apartment, which is in the unit next door.) It's about 4:15 p.m. and half the office is still working on that deck. The other half is going to get ice cream — they're walking out and having a grand old time. It's Friday! But I go upstairs to sit in the conference room to work with my sales team. I leave work at around six, and have dinner with a girlfriend who is in from out of town. I'm in bed by 11 p.m., which is perfect.
On why she treats every meeting like a potential opportunity:
When I met with the CEO of JibJab it was because we had met two weeks ago at the White House. He's raised money, so I spoke to him very briefly about it then. He could sense my anxiety about the fundraising, so he asked if I wanted to come by his office. These kinds of meetings are a lot of my day, because many times, they can turn into deals.
When I meet with people, I start by going the human route, talking about why I started the company. We're still only two and a half years old, but we're so big and reach so many people. In meetings, I try to ask a lot of questions. I'm a pretty good saleswoman. Fifty percent of it is just plain and simple networking, and it always starts with someone introducing me to this person — I follow up with them, they say, "Hey, stop by my office" or "Oh, I'm in town, do you want to grab lunch?" When there is interest from people working at a certain level, it might not turn into a financial deal in the next three months, but the potential is always there.
On why she decided to be one of the few brave L.A. residents without a car:
I travel so much that a car and car insurance just don't make sense for me. The car would sit in the street half the time because I'm never here — I travel about once a week, which is a lot. For example, tomorrow I'm going to San Francisco for a meeting with an investor and a dinner party. Next week I'm going to Dallas to meet with two clients. There are two big companies that are headquartered in Dallas that we've been working on deals with for a while. I travel really frequently to D.C., San Francisco, and New York. And I'm an easy traveler, so I try to minimize all my problems: same bags, same outfits. I'm a really uniform-style type of person. I wear all black when I travel because it's just easier, everything always matches.
On the only two reasons why her team is allowed to call her in the middle of the night:
I think the team is really independent now, but I used to feel stressed about things like that: What happens if something goes wrong? Now they know what to do in most circumstances. But if there is something that happens that is really an emergency, we have processes in place for reaching a fast resolution. I tell my staff to call me anytime — even in the middle of the night — if the company is being attacked, if there is a cybersecurity problem. That's the first thing they can call me about. The other is if we put up an article and it was totally untrue and Twitter is attacking Blavity. For that kind of thing, there really is no cookie-cutter solution. We just have to assess it in real time. I get the four co-founders, or at least two of them, on the phone, and we look at the situation as it unravels. Here are our options, what do we want to do, that kind of thing.
On why she's begun to host meet-up-style happy hours in the different cities that she visits:
We really try to meet all of our superfans. There are a lot of creators, web-series producers, writers, and activists who are interested in getting in touch with us, so I try to do happy-hour meet-ups when I'm in a different city. I get so many mixtapes. People want to be on Blavity, they want to submit content, they want us to participate in their cause — there are definitely people at the happy hours who want jobs, but then there are people who just want to have a good time. When people try to give me something in person, I tell them, "This sounds awesome, have you submitted it to the site directly?" When they say no, I'm like, "Go to the website and submit it there. We literally have an open platform." I give them all my card, so they can email me if they want.

On the strange way that she learned she was stressed:
I didn't really think that I had stress until I gained ten pounds and I was like, "What is this?" I was eating the same, I hadn't changed how I work out. And that's when I realized, "Oh my god, this is stress. This is not okay." I wasn't aware of how my body manifests stress. I'm a pretty cool-and-collected person, so my stress is more internalized. I realized that I was stressed because I could see it.
I dealt with it by starting to take out things that were causing me that stress. Some of it was company structure — I needed to let go and hire higher-level people because at the time, I was managing too many people. I was doing a lot more because we didn't have any money. When we were in a position where we could hire more people, I began to feel less stressed.
On why even the founder of a content platform has to put down her phone sometimes:
If I'm on a date, I will leave my phone in a faraway place so that I don't touch it. I have a spot on my calendar reserved for "rest." It's usually about three hours where I'm not connected — I watch Netflix or I can write or I work on financial projections. It's time away from being pinged every five seconds. And on weekends, I pick a day that I don't work. But the thing is, I love it so much. I would do it for free — I mean, I did do it for free. And I'd absolutely keep doing it if Blavity didn't pay me.