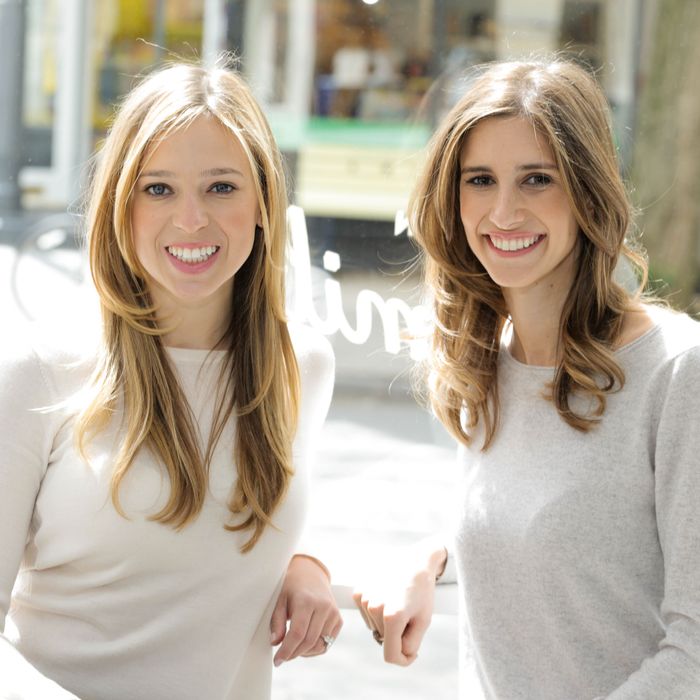 Danielle Weisberg and Carly Zakin.
Photo: Adam Watstein
When Danielle Weisberg and Carly Zakin, who co-founded theSkimm in 2012, first discussed how they'd cover the 2016 presidential election, Zakin floated the idea of interviewing each candidate as though they were applying for a job. So, long before the primaries, they reached out to each campaign with an interview request. Most campaign staffers had heard of their company — after all the Daily Skimm, their email newsletter, has more than 4 million subscribers, the majority of whom are millennial women — but the candidates themselves were far removed from that demographic.
Despite that fact, most of them had heard of theSkimm — including, of all people, Jeb Bush. Zakin interviewed Bush herself, and he told her he'd tried to convince his staff that he knew what theSkimm was. "He was like, 'No, I know theSkimm!' And his staffers didn't believe him," Zakin said, laughing. "But he really did!" She added, "The candidates who pay attention to this audience knew what it was."
That audience was certainly paying attention to the presidential candidates, 12 of whom theSkimm interviewed. So far, through its partnership with Rock the Vote, more than 110,000 Daily Skimm readers have registered to vote, nearly 95,000 of them women. That's enough votes to decide the 2000 presidential election 200 times over. And while organizations such as Rock the Vote and Project Vote have been working to increase registration rates for years, theSkimm managed to sign up about 80,000 people in the first three weeks of its "no excuses" initiative. On its own, those numbers are staggering. But they're even more impressive considering Weisberg and Zakin had no idea what to aim for. "We set our goal at 100,000 people," Zakin said. "It was a made-up number. The fact that we surpassed it … we're just blown away."
Even before they decided on a job-interview format for each candidate, Zakin and Weisberg made the decision to remain nonpartisan. In an election fraught with accusations of false equivalence, Weisberg said it was a decision they weighed carefully. But in the end, they decided the market was saturated with outlets expressing opinions — what was missing was a platform that put issues first. That doesn't mean theSkimm's coverage has been completely neutral. "We don't take a side, but we do use our voice," Weisberg said. "We can feel frustrated, and that frustration definitely comes across in our writing."
TheSkimm's tone, as well as its neutral stance, is a big part of what makes its followers so devoted — and so willing to take action when called upon. "I read it every single day, so I know the voice and I respect the voice," said Shelby Comstock, a 26-year-old Kentucky native. She said theSkimm's constant reminders finally motivated her to change her voter registration from Kentucky to New York after nearly four years of living in the city. "It's like one of your girlfriends saying, 'Dude, why haven't you done that?' And that's so different from CNN.com saying, 'Why haven't you done that?' When theSkimm tells me I'm like, 'All right, fair.'"
Tahlia Burton, 27, agreed. "TheSkimm has really established their voice as one that's trustworthy," she said. "They talk like us and they think like us, so they just come off as one of us."
Given that millennials are one of the most important voting blocs of this election, Weisberg said some candidates have made surprisingly little effort to truly understand them. "I hate [the assumption that millennials don't care about politics]," she said. "I think it's stupid and it's not true." Instead, she said, crippling levels of student debt and a sluggish job market have jaded the millennial generation. "We haven't really seen things change, so we don't have the strongest case of trust with politicians."
That lack of trust feeds into what many see as millennial apathy. But the reality is that most young voters are just unhappy with their choices. In a survey of theSkimm's female millennial readers, almost 50 percent said they're disappointed by the election, while 57 percent feel afraid. Forty-six percent described it as "a reality show they hate watching."
"There is this frustration and this anger, and that's really hard to combat," Weisberg said. "That's what shaped our decision to make this about registering people — our line has been, 'You can't complain if you don't vote.'"
Once they decided registration would be their focus, Weisberg and Zakin did everything they could to empower their readers. They kept them up to date on the latest developments in the election. They created a section of their website — Skimm the Vote — dedicated to breaking down each candidate's stance on the issues. They created a section for election FAQs where they explain everything from how to find your polling place to what the heck a super-pac is. And they're planning to launch an Election Day buddy system, so readers can carpool to the polls.
"We thought about every single point in this whole crazy election and this crazy voting process where they would have a question or need help, and that's what we worked backwards from," Weisberg said. "We've had thousands of people write in and say, 'I'm being active for the first time.' Or, 'I'm having conversations for the first time.' They are an army, and they're shaping this movement."