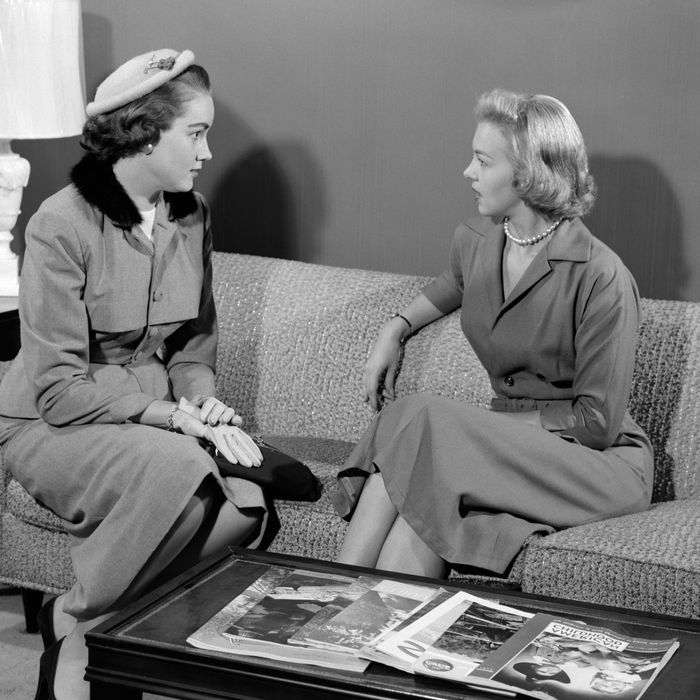 Photo: H. Armstrong Roberts/ClassicStoc/Getty Images
Anna, 29, lives in Virginia and has been in recovery from clinical depression and a related bulimia disorder for over two years. She's doing very well and is about to finish her doctorate in physical therapy. However, she's worried about her options for ongoing treatment when she leaves school. She's starting a job at a small, family-owned practice near Denver in January and, while she knows they provide health benefits, she doesn't know details. She's concerned that once she loses access to her school's mental health services, she won't be able to afford the cost of counseling and the medications that have helped sustain her recovery. How can she afford to get the care she needs?
You're right to be concerned. Since Election Day, the prospect of affordable mental health care is looking about as grim as women's physical health care. With the future of the Affordable Care Act on shaky ground, the odds of getting coverage for psychological needs (and much more) may veer into dodgy territory as soon as Trump takes office. Anna, there's no way to sugar-coat this: Start saving for out-of-pocket costs now. They won't be cheap, but they will be worth your hard-won strength to sustain the high-functioning life you've made for yourself.
Meanwhile, you and the other 20 percent of Americans who live with a diagnosable mental illness should take a long, hard look at the mishmash of quasi-affordable options available to you. If your employer offers health benefits, open enrollment (the period of time in which you can either renew or change your health insurance plan for next year) is happening right now. Anna, this is an excellent — and imperative — time to ask your future employer about plans they're offering for 2017, even though you won't enroll until you start working there. Get as much information and advance notice as possible. Research is your best weapon against a surprising $450 bill for a 15-minute session with a psychiatrist to get a new prescription for Xanax (which happened to a friend of mine last week; she had to put it on her credit card, and will pay it off without any insurance reimbursement whatsoever).
On a positive note, congratulations on your recovery and your new job. Even with your school's support, fighting your way out of mental illness is a thorny, ugly affair, and finding a care regimen that allows you to excel in your life and career puts you head and shoulders above most.
"Of all Americans who are clinically depressed and need help, less than half of them are diagnosed, let alone get any kind of help for it," Dr. Harsh Trivedi, chair of the American Psychiatric Association's Council on Healthcare Systems and Financing and CEO of the Sheppard Pratt Health System, told me over the phone this week. "Of those who do get diagnosed with clinical depression, only about 30 percent get sufficient treatment to return to their normal functioning. That low percentage has a lot to do with lack of access to care and not being able to use your health benefits to cover it."
That percentage also has a lot to do with fear of being stigmatized for mental illness. "If you had high blood pressure and diabetes, you'd demand that your insurance take care of it, right?" continued Dr. Trivedi. "Right now, people don't feel empowered to say the same thing about their depression or their eating disorder." And they're almost certainly not going to raise their hand and ask about it in front of all their co-workers during a health-care benefits info session, especially if they're new at the company. Instead, do your grilling over the phone. "Ring up the insurance company to find out what kinds of services are covered by the exact plan you're considering," said Dr. Trivedi. "That way, you can have a very specific conversation about whether your needs will be met." Anna, your proactivity has gotten you this far, and it will remain your biggest asset.
Beware: A lot of health-insurance plans have what are called "phantom networks" — they'll claim to cover your needs, but fall short when you try to make an appointment with a real human. "A health-insurance company will send you very pretty lists of providers, which will look impressive at first, but then when you try to call them, you'll find out that they don't actually exist — they retired, or they died, or they stopped taking that insurance, or they aren't taking new patients," said Dr. Trivedi. "The expression is called 'network adequacy,' and if the providers that are offered have a months-long waiting list, or they've moved to a different area, it's technically fraud on the insurance company's part. You can report them to a state regulatory body if this is the case."
I strongly urge you to do so, and to call your insurance company to complain — loudly and often. Write about them on message boards. Make as much noise as you can. Unfortunately, that doesn't solve your immediate problem of needing treatment, but it could bring attention from watchdog groups and mental health advocacy organizations like the American Psychiatric Association or the National Alliance on Mental Illness (NAMI).
Another possibility is to do the process backwards: Find new providers in Denver who specialize in the kind of care that's worked for you so far, and then find out what kind of insurance they take. If you're lucky, it's one that your new employer will offer.
That being said, a lot of mental health professionals simply don't take private insurance, period. According to Dr. Teri Brister, Director of Knowledge Integration at NAMI, it's because providers face an uphill battle when it comes to haggling with health-insurance companies for reimbursement. "As a result, there's an extreme shortage of psychiatric care in the country now," she said. "One of the big reasons why medical students don't go into psychiatry as much anymore is the inequity of insurance coverage — they just can't make a living. It's a problem." Instead, patients usually get stuck with the bill and have to duke it out with insurance companies themselves, often unsuccessfully. (Hence my friend's non-reimbursable $450 appointment.) Even with a medical diagnosis, a mental health condition is difficult to quantify, which can give insurance companies enough room to squirm.
If the providers you like do not take the health insurance that your future employer is offering (or don't take it at all), you have a couple of options. First off, almost all mental health-care professionals charge on a sliding scale depending on what you can afford. You might get the rate knocked down by about 30 percent, if you ask. What's more, especially in large cities like Denver, you can often find community mental health centers with inexpensive or even free support systems — like group and individual therapy, and access to psychiatric nurses who can help you with medication prescriptions.
Secondly, consider signing up for an insurance plan with a lower deductible, so that once you've paid a certain amount out of pocket, the remaining care costs for the year will be reimbursed (at least partially — usually about 60 percent, tops). This approach means you will have a higher monthly premium, but do the math—if you're seeing an out-of-network therapist weekly, a lower deductible might start to save you a lot of money after a few months. However, it will require financial organization and savings, so be strategic (i.e., stuff your piggy bank now). Also, make sure that you keep written invoices from all of your out-of-network appointments so that you can prove to your insurance company how much you've spent.
Thirdly, try getting your prescriptions through an OB/GYN or primary-care physician, particularly if you've been stable on your current medicine regimen for a while. "Bring your medication bottles to your appointment so that the provider can see what you've been taking and just prescribe more refills," said Dr. Brister. "PCPs and OB/GYNs actually prescribe the majority of antidepressants in this country. And if you find a primary-care physician that you trust, they can help you find a psychiatrist — your doctor can usually get you an appointment to see another doctor much quicker than you can by cold-calling."
And finally, you can pay your out-of-pocket mental health-care bills using your FSA (flexible spending account), which will save you money in tax dollars, as the money in your FSA comes out of your taxable income. Some people get scared of overestimating how much money to put in their FSA, as it rarely rolls over from year to year, but if you have leftover money come December, you can also use it up on the FSA Store to buy normal household items like sunscreen, tampons, and vitamins — again, all using pre-tax dollars.
No matter what, lean hard on your current health-care team throughout this transition, and start exploring new providers now. Ask them for recommendations and see if they can get you appointments. If you sign a release form, they'll be able to talk about your medical history with any new providers you find, which will help facilitate a smooth handoff. "Look at it this way," said Dr. Trivedi. "If you had a 3-year-old and you were moving to a new city, you'd get in touch with pediatricians in the area before moving, right?"
A bright spot in this mess is that the medical industry is spawning a number of new, nontraditional, web-based businesses that provide cheaper services. Maven, an online platform for women's health, allows you to access medical professionals — including mental health providers — via phone or video chat for much lower rates than in-office appointments (no, you don't need insurance, and yes, you can get prescriptions from them). Katherine Ryder, Maven's CEO, founded the company with the exact goal of solving the problem that you, Anna, are facing: "Finding a provider who makes you feel comfortable and has the specialty you need shouldn't be restricted by your health insurance or location," she told me. "And sticking with a provider you trust shouldn't result in huge out-of-pocket bills."
Katherine also recommends using Blink Health, a web-based company that partners with large pharmacy chains to provide you with the lowest price on generic drugs. I don't know how they do it (and I'm not sure I want to), but it will save you money and is worth checking out.
And finally, back to the Affordable Care Act, because it's particularly salient to those with mental health conditions right now: In 2014, it became illegal for health insurance companies to refuse coverage to those with "pre-existing conditions," a slippery expression referring to prior mental or physical health issues ranging from depression to heart disease. (For example, in 2008, a friend of mine, then 22, was denied coverage by a health-insurance company because she had a pre-existing condition of anorexia, which she was diagnosed with when she was 14 and had fully recovered from in the years since. She was, and still is, a completely healthy young woman.) Before 2014, it was actually quite common for people to request that doctors keep psychological diagnoses off their medical records, just so that it wouldn't wreak havoc on their future eligibility (and it goes without saying that they'd pay their mental health bills out of pocket).
Anna, if the law gets repealed, your overall options for healthcare coverage may become narrower — and insurance companies may regain the right to deny you coverage. But, as Dr. Trivedi reminded me, "The squeaky wheel gets the grease." So keep advocating for yourself, for your health care now and during elections in the years to come.